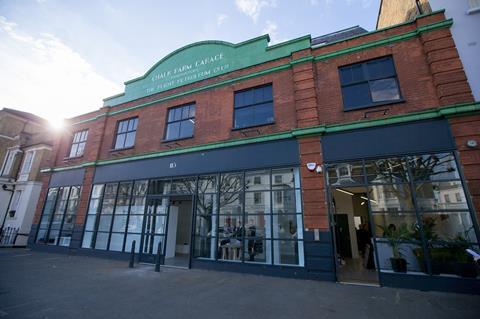 Locksmith Animation, the new feature digital animation company co-founded by Julie Lockhart, Sarah Smith and Elisabeth Murdoch, officially opened its doors and revealed a few more details of its ambitious slate at an opening party in London on Monday.
The company's new 5,000 sq-foot animation studio in Primrose Hill, northwest London, will house more than 70 artists, staff and crew.
Locksmith, which has a worldwide multi-picture output deal with 20th Century Fox, is already in production on its first project Ron's Gone Wrong, which is slated for a November 2020 release. Directed by JP Vine, a veteran Pixar story artist, the film is about the friendship between an 11-year-old boy and a malfunctioning robot in a world of digital connectivity and social media.
"It's about children's friendships and relationships in a world of online and screen time and devices and what's happening to children's relationships," co-CEO Smith explained in a speech at the party which was attended by industry names including Ron's Gone Wrong producer Lara Breay, and Cate Blanchett and Andrew Upton, both of whom are friends with Murdoch. It is understood Blanchett is not involved in any Locksmith project as of yet.
Smith went on to describe Locksmith's next two films: "The second film that we're going to make is a properly irreverent kick-ass girl movie set in London that will kind of reinvent one of the bits of the animated girl movie genre," she said.
"The third movie is actually about the sense that we're probably living at the end of times and that our kids are going to inherit the Earth, and that what they're going to do with it is going to be awesome."
Locksmith has partnered with UK VFX facility Double Negative for digital production and plans to deliver a project every 12-18 months.
"Our movies are driven by passion to make films that have relevance to our own kids, to contemporary children," Smith explained. "Movies that are about the lives of kids today, kids who have iPads, kids who live in cities, kids who've seen The Walking Dead. These are the children who sit in the audience of animated movies sometimes and feel like they're talking to an animated movie audience instead of actually grown movies for our own children."