Sony's Baby Driver scores Edgar Wright's second biggest UK debut.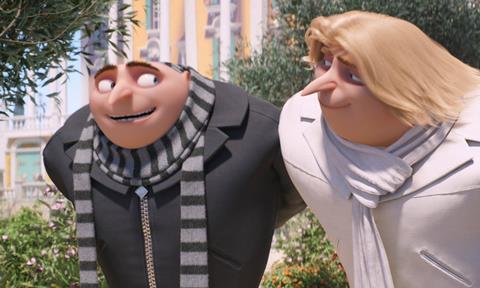 (Note - Dollar conversions are based on today's rates)
UK TOP FIVE
| Ranking | Film/Distributor | Weekend gross | Running total |
| --- | --- | --- | --- |
| 1 | Despicable Me 3 (Universal) | $14.5m (£11.14m) | $14.5m (£11.14m) |
| 2 | Baby Driver (Sony) | $4.7m (£3.6m) | $4.7m (£3.6m) |
| 3 | Transformers: The Last Knight (Paramount) | $2.1m (£1.6m) | $10.3m (£7.93m) |
| 4 | All Eyez On Me (Lionsgate) | $1.19m (£911,235) | $1.19m (£911,235) |
| 5 | Wonder Woman (WB) | $1.18m (£909,000) | $26.9m (£20.73m) |
UNIVERSAL
Not even good weather could stop the Minions as Despicable Me 3 scored a huge debut as it landed top of the UK box office.
Universal's latest Illumination Entertainment offering took an excellent non-final $14.5m (£11.14m) from its 612 sites, marking the fourth-biggest opening of 2017 to date and the third-biggest Fri-Sun debut.
The film achieved the biggest opening Saturday for an animation of all time, as well as Illumination's biggest opening Friday and biggest opening Saturday of all time.
While Despicable Me 3 opened lower than Despicable Me 2's $19.3m (£14.82m), that debut included $6.4m (£4.9m) in previews, meaning the third film grossed more over its first Fri-Sun, ahead of DM2's $12.9m (£9.9m).
Despicable Me 3's bow was just behind the $15m (£11.56m) debut of spin-off film Minions, which went on to amass $62.1m (£47.8m) in the UK, ahead of DM2's $61.7m (£47.5m).
The threequel will hope to challenge those tallies, especially with Cars 3 its only main family competition over the coming weeks.
Also for Universal, The Mummy added $396,000 (£304,612) for $10.9m (£8.4m) after four weeks in play, while The Book Of Henry fell heavily in its second weekend and has taken only $174,000 (£133,714) to date.
SONY
Baby Driver may have had to settle for second, but sped to a promising UK debut all the same.
Sony's action musical grossed $4.7m (£3.6m) from its 544 sites, including $1.56m (£1.2m) in previews, marking director Edgar Wright's second best UK bow, behind Hot Fuzz's $7.7m (£5.92m) from 427 sites, including $2.1m (£1.6m) in previews.
With critical acclaim and positive word-of-mouth, Baby Driver looks set for a sustained run over the coming weeks.
PARAMOUNT
Transformers: The Last Knight fell 59% (excluding previews) with a non-final $2.1m (£1.6m) second weekend.
Paramount's action sequel is now up to $10.3m (£7.93m) after 11 days in play, and will end its run as the lowest-grossing outing of the series, currently Transformers: Age Of Extinction's $25.3m (£19.5m).
Also for Paramount, Baywatch stands at $12.1m (£9.34m) following a $227,000 (£176,000) fifth weekend.
LIONSGATE
All Eyez On Me enjoyed an decent start to its UK run as it charted fourth.
Lionsgate's Tupac Shakur biopic grossed $1.19m (£911,235) from its 268 sites, marking a strong site average of $4,418 (£3,400), and will hope to build on its start, rather than be a fast burn.
Also for Lionsgate, Churchill has grossed $1.75m (£1.34m) after three weeks in play.
WARNER BROS
Wonder Woman has crossed the £20m mark at the UK box office in its fifth week of release.
Warner Bros' latest DC Extended Universe offering lassoed an extra $1.18m (£909,000) for $26.9m (£20.73m) to date, and could still reach £25m if it holds well.
Also for Warner Bros, The House debuted with a below-par $626,000 (£482,000) from its 410 sites, marking a site average of $1,528 (£1,176).
DISNEY
In its sixth weekend, Disney's Pirates Of The Caribbean: Salazar's Revenge fell 53% as it sailed to $422,000 (£325,000) for $24.9m (£19.18m) to date.
Also for Disney, Guardians Of The Galaxy Vol. 2 has amassed a mighty $53.2m (£40.95m).
EONE
Falling almost 70% in its second weekend, eOne's Hampstead grossed $191,000 (£147,108) for $1.43m (£1.1m) to date.
TRAFALGAR RELEASING
Following its Imperial War Museum preview event, Trafalgar Releasing's Alone In Berlin posted a UK bow of $139,000 (£106,953), including $70,000 (£54,003) in previews, from its 38 sites, with one still to report.
FOX
Despite the blockbuster arrival of Despicable Me 3, Fox's The Boss Baby boosted 7% with a non-final $138,000 (£106,383) 13th weekend for $37.1m (£28.52m) to date.
Also for Fox, My Cousin Rachel, Diary Of A Wimpy Kid: The Long Haul and Gifted stand at $2.95m (£2.27m), $7.2m (£5.53m) and $1.08m (£833,061), respectively.
ICON FILM DISTRIBUTION
From its 16 sites through Icon Film Distribution, cat documentary Kedi recorded a UK debut of $43,000 (£32,964), including $8,600 (£6,614) in previews.
THUNDERBIRD RELEASING
A Man Called Ove enjoyed a $43,000 (£32,759) UK opening, including $5,800 (£4,483) in previews, from its 25 sites through Thunderbird Releasing.
UPCOMING RELEASES
This week sees a saturation release for Sony's Spider-Man: Homecoming (opens July 5), while Universal's It Comes At Night receives a wide release.
Studiocanal's Song To Song, Thunderbird Releasing's Tommy's Honour and Curzon Artificial Eye's The Midwife are among the films receiving a limited release.