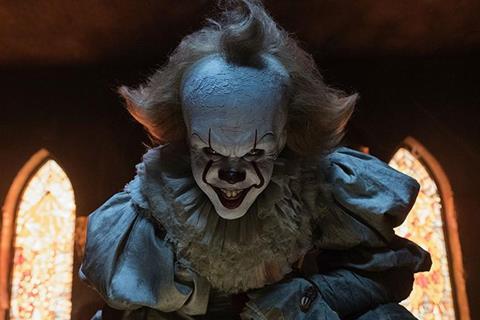 UK TOP FIVE
| Ranking | Film/Distributor | Weekend gross | Running total |
| --- | --- | --- | --- |
| 1 | It (WB) | $8.2m (£6.05m) | $28.7m (£21.15m) |
| 2 | Victoria And Abdul (Universal) | $2.5m (£1.84m) | $2.5m (£1.84m) |
| 3 | mother! (Paramount) | $1.11m (£820,000) | $1.11m (£820,000) |
| 4 | American Assassin (Lionsgate) | $1.04m (£767,511) | $1.04m (£767,511) |
| 5 | The Emoji Movie (Sony) | $525,000 (£387,000) | $18.5m (£13.65m) |
(Note - Dollar conversions are based on today's rates)
WARNER BROS
It followed up its record-breaking opening by continuing to dominate the UK box office with a second straight week at number one.
Warner Bros' horror fell a respectable 40% on its way to an $8.2m (£6.05m) second weekend for an excellent $28.7m (£21.15m) after ten days in play, avoiding the usual fast-burn nature of genre films in the UK.
Kingsman: The Golden Circle will provide tough competition for It to record a hat-trick at the top of the chart, but the horror seems well set to at least take £30m by the end of its run.
Also for Warner Bros, Dunkirk added $443,000 (£327,000) for a terrific $75.6m (£55.75m) after nine weeks in play, making it the 18th highest-grossing film of all time.
Annabelle: Creation has now scared up $11.2m (£8.23m).
UNIVERSAL
Victoria And Abdul was this week's highest new entry as it recorded director Stephen Frears' best-ever UK debut.
Universal's biopic marched to a healthy $2.5m (£1.84m) from its ambitious 607 sites, topping Philomena's UK bow of $2.05m (£1.51m) from 547 sites. The film should achieve decent midweek results too given its older-skewing audience.
Also for Universal, American Made flew to an extra $466,000 (£343,795) for $6.8m (£5.04m) to date, while Despicable Me 3 has now amassed $63m (£46.5m) following a $343,000 (£253,362) 12th weekend.
PARAMOUNT
Despite an extensive marketing campaign, mother! disappointed on its UK bow as it charted third.
Paramount's psychological horror took a non-final $1.11m (£820,000) from its 467 sites, marking a site average of around $2,380 (£1,750) and director Darren Aronofsky's third-best UK debut, some way behind Black Swan and Noah.
mother! will hope to post stronger numbers midweek due to its arthouse-skewing audience, but could struggle to make an impact on weekends.
LIONSGATE
American Assassin's Thursday (September 14) opening wasn't enough to see it top mother! as it landed fourth.
Lionsgate's adaptation of Vince Flynn's novel shot to a non-final $1.04m (£767,511) from its 433 sites, including $226,000 (£167,004) in previews, achieving a site average just above mother! of $2,404 (£1,773).
Also for Lionsgate, The Hitman's Bodyguard added $319,000 (£235,043) for $9.6m (£7.09m), while The Limehouse Golem has grossed $1.54m (£1.14m) after three weeks in play.
SONY
Falling only 30% in its seventh weekend, Sony's The Emoji Movie continued its good run with $525,000 (£387,000) for $18.5m (£13.65m) to date.
Also for Sony, Spider-Man: Homecoming has now swung to $41.2m (£30.38m), ending its run as the second biggest Spider-Man outing and the sixth highest grossing Marvel film.
EONE
The Jungle Bunch didn't manage to unseat The Emoji Movie as the UK's leading animation as it opened with a soft non-final $508,000 (£374,680) from its 507 sites through eOne.
Also for eOne, Detroit has grossed $3.37m (£2.49m) after four weeks in play.
STX INTERNATIONAL
In its second weekend, STX International's Wind River fell 37% as it took $343,000 (£252,708) for $1.27m (£940,210).
STUDIOCANAL
In its fourth week, Studiocanal's Logan Lucky uncovered a further $166,000 (£122,308) for $4.3m (£3.21m) to date.
FOX
Falling 37% in its eighth weekend, Fox's Captain Underpants took a non-final $141,000 (£104,144) for $10.5m (£7.72m) to date.
PICTUREHOUSE ENTERTAINMENT
God's Own Country fell around 50% with an $88,000 (£64,956) third weekend from its 61 sites for $771,000 (£569,936) so far through Picturehouse Entertainment.
ARROW FILMS
From its eight sites through Arrow Films, The Villainess fought to a UK debut of $9,200 (£6,806), including $3,400 (£2,502) in previews.
UPCOMING RELEASES
This week sees a saturation release for Kingsman: The Golden Circle (opens September 20) and a wide release for Curzon Artificial Eye's Borg Vs McEnroe.
Peccadillo Pictures' In Between and Park Circus' re-release of Lawrence Of Arabia are among the films receiving a limited release.