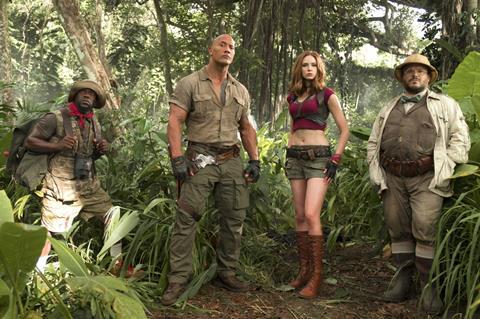 Dollar amounts are based on today's conversions. P = previews
UK Top Five
| Rank | Film / Distributor | Weekend gross (Fri-Sun) | Running total | Week |
| --- | --- | --- | --- | --- |
| 1 | Jumanji: Welcome To The Jungle (Sony) | $2.81m (£2.1m) previews | N/A | P* |
| 2 | Paddington 2 (Studiocanal) | $2.25m (£1.68m) | $39.26m (£29.33m) | 5 |
| 3 | Daddy's Home 2 (Paramount) | $1.51m (£1.13m) | $13.02m (£9.73m) | 3 |
| 4 | Wonder (Lionsgate) | $991,003 (£740,378) | $3.45m (£2.58m) | 2 |
| 5 | Ferdinand (Fox) | $811,048 (£606,908) previews | N/A | P |
The heavy snowfall and impending release of Star Wars: The Last Jedi (Dec 14) made for a slow weekend at the UK box office.
Previews dominated this week's top five, with two films landing on the chart ahead of their official releases.
Sony
Despite technically only previewing this weekend, Jumanji: Welcome To The Jungle comfortably landed top of the UK box office, taking $2.81m (£2.1m) from 517 sites for a healthy-looking site average of $5,437 (£4,062).
The film now leaves cinemas for 10 days, with Star Wars: The Last Jedi set to dominate almost the entirety of UK cinema real estate, but returns for its official opening on December 20, when the full opening figure will be reported (including previews).
Brigsby Bear opened to a meagre $6,023 (£4,500) from its 63 screens. Including previews through the Odeon Screen Unseen event, the film sits on $49,257 (£36,800).
The Star is up to $754,920 (£564,000) after $128,497 (£96,000) this weekend and after an uptick last weekend, Call Me By Your Name dropped 23% for $49,525 (£37,000) and now sits on $1.47m (£1.1m).
Studiocanal
Paddington 2 remains top of the films on full release, dropping 41% this weekend with $2.25m (£1.68m). It now sits on $39.26m (£29.33m) and while it will lose screens to Star Wars next week, the film will continue to play over the Christmas period and into the new year.
Paramount
Daddy's Home 2 fell a further 41% to $1.51m (£1.13m) and it now sits on $13.02m (£9.73m). The film has a lot of ground to make up on the original's gross of $22.97m (£17.2m).
Lionsgate
In its second week, Wonder fell 40% to $991,003 (£740,378). It now sits on $3.45m (£2.58m).
The Jake Gyllenhaal-starring Stronger posted a bow of $105,973 (£79,172) from its 148 sites. Previews of $30,905 (£23,089) take the film to a running total of $136,877 (£102,261).
Film Stars Don't Die In Liverpool added a further $32,284 (£24,119) for $114,8547 (£858,079) to-date. Meanwhile, Jigsaw added $11,032 (£8,242) for a cume of $6.73m (£5.03m).
20th Century Fox
Previewing this weekend, family animation Ferdinand posted $811,048 (£606,908) Fri-Sun to sneak into the top five. The film has its official opening on Saturday next weekend, Dec 16. Murder On The Orient Express added $538,456 (£402,927) in its sixth week and now sits on $30.74m (£23m).
Battle Of The Sexes fell a further 70% to $88,102 (£65,927) this weekend. The film's running total is $1.78m (£1.33m).
Warner Bros

After platforming the film in London last weekend, Sony pushed the James Franco-starring The Disaster Artist into 303 cinemas this week. Despite a certain niche appeal, the film's good critical buzz and star power garnered a $439,630 (£329,000) Fri-Sun haul. Including the London opening, its cumulative total is $901,976 (£675,000).
Justice League fell a further 63%, taking $736,279 (£551,000) Fri-Sun for a to-date cume of $22.29m (£16.68m).
Disney
With Star Wars: The Last Jedi waiting in the wings - it opens on Thursday (Dec 14) - Disney is preparing itself for a huge run into Christmas. This week, Thor: Ragnarok added $322,407 (£241,000) and now sits on $41.04m (£30.68m), passing Spider-Man: Homecoming's total of $40.91m (£30.3m) earlier this year.
Arrow Films
Arrow went big with Blade Of The Immortal, releasing on 111 screens, surpassing The Handmaiden to make it the widest foreign language film release of the year.
A disappointing figure of $31,975 (£23,908) was boosted a little by previews, which when included make for a total opening of $73,264 (£54,780). Overall, the screen average of $661 (£494) makes tough reading for foreign language cinema fans.
Entertainment Film Distributors
A Bad Moms Christmas took $223,394 (£166,898) Fri-Sun and now sits on a running total of $10.48m (£7.83m).
Altitude
Ai Weiwei doc Human Flow posted a healthy opening of $126,846 (£94,919) from its 17 sites, the majority of which came from previews. Site average was a decent $7,461 (£5,583). The Florida Project played in 28 sites for a cume of $1.01m (£757,464). Loving Vincent fell 70%, taking $5,102 (£3,817) from its six sites for $1.21m (£905,527) to-darte.
Curzon Artificial Eye
Happy End added $49,577 (£37,039) Fri-Sun for a running total of $316,437 (£236,410).
Vertigo
The Dinner opened to $114,110 (£85,252) from 55 sites. Menashe posted $54,945 (£41,049) from 26 sites, including $11,553 (£8,631) in previews.
Thunderbird
The Man Who Invented Christmas added $73,547 (£55,026) Fri-Sun and now sits on $490,689 (£367,120).
Universal
Genre flick Better Watch Out opened in 155 sites, taking $59,463 (£44,539).
Next week
This week is all about Star Wars: The Last Jedi, which opens from Thursday, Dec 14. Minimal competition comes mostly in the form of limited releases – including Vertigo's The Prince Of Nothingwood and Thunderbird's Song Of Granite – but Fox's animation Ferdinand has its official opening from Saturday, Dec 16.