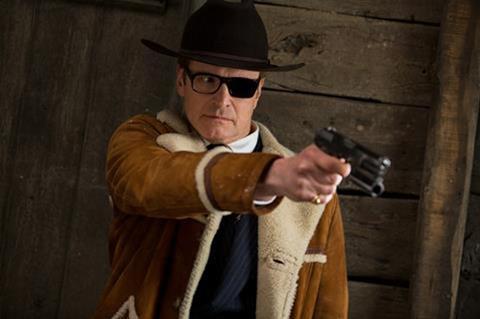 UK TOP FIVE
| Ranking | Film/Distributor | Weekend gross | Running total |
| --- | --- | --- | --- |
| 1 | Kingsman: The Golden Circle (Fox) | $5.6m (£4.2m) | $20.8m (£15.62m) |
| 2 | It (WB) | $2.32m (£1.74m) | $39.2m (£29.44m) |
| 3 | Victoria And Abdul (Universal) | $1.25m (£939,126) | $9.4m (£7.02m) |
| 4 | Goodbye Christopher Robin (Fox) | $1m (£779,562) | $1m (£779,562) |
| 5 | Flatliners (Sony) | $646,000 (£485,000) | $646,000 (£485,000) |
(Note - Dollar conversions are based on today's rates)
FOX
Kingsman: The Golden Circle comfortably retained the UK top spot for the second straight week.
Fox's action sequel dropped only 32% (excluding previews) as it shot to a non-final $5.6m (£4.2m) second weekend for a decent $20.8m (£15.62m), and will soon become director Matthew Vaughn's highest-grossing UK release.
Blade Runner 2049 will likely prevent it from a third week at number one, but Kingsman: The Golden Circle stands a good chance of crossing £20m by the end of this coming weekend.
Also for Fox, Goodbye Christopher Robin was the week's highest new entry with a $1m (£779,562) UK debut from its 573 sites, marking director Simon Curtis' biggest UK bow to date.
Given its older-skewing audience, it should post healthy midweek numbers as long as it can hold off competition from Victoria And Abdul.
Bollywood action sequel Judwaa 2 enjoyed a $238,000 (£178,813) UK debut from its 58 sites, marking a strong site average of $4,109 (£3,083), while Captain Underpants has reached $10.5m (£7.91m).
WARNER BROS
It will soon become the seventh release of 2017 to hit £30m as a 39% drop saw it record a $2.32m (£1.74m) fourth weekend.
Warner Bros' hit horror is now up to an excellent $39.2m (£29.44m) and still has until October 13 until it faces some horror competition in the market from eOne's The Ritual.
Also for Warner Bros, Dunkirk has become Christopher Nolan's biggest UK release with $75.1m (£56.35m) following a $195,000 (£146,000) 11th weekend.
UNIVERSAL
Victoria And Abdul continued its excellent run with only a 24% drop on its way to a non-final $1.25m (£939,126) third weekend.
Universal's biopic is now up to $9.4m (£7.02m) after taking $1.67m (£1.25m) across its second midweek period. It is currently director Stephen Frears' third biggest UK release behind The Queen and Philomena.
Also for Universal, Despicable Me 3 boosted 19% in its 14th weekend as it added $311,000 (£233,295) for $62.6m (£46.96m), while American Made took $128,000 (£95,745) for $7.4m (£5.53m) after four weeks in play.
SONY
Battling negative reviews despite not screening for critics, Flatliners wasn't exactly bursting with life on its UK debut.
Sony's sci-fi horror remake grossed $646,000 (£485,000) from its 356 sites, marking a site average of $1,815 (£1,362), and could struggle to sustain in a crowded market due to its soft word-of-mouth.
Also for Sony, The Emoji Movie dropped out of the top five for the first time since its release, but still boosted 7% with a $512,000 (£384,000) ninth weekend for a healthy $19.3m (£14.5m) to date.
STX INTERNATIONAL
Home Again struggled to make an impact at the UK box office with a $645,000 (£484,023) bow from its 434 sites.
STX International will hope its second release will fare better with midweek audiences, given that Home Again is directed by Nancy Meyers' daughter Hallie Meyers-Shyer.
Also for STX International, Wind River has grossed $1.82m (£1.37m) after four weeks in play.
EONE
Boosting 4% in its third weekend, eOne's The Jungle Bunch swung to a further $400,000 (£299,800) for $1.43m (£1.08m) to date, but could struggle this weekend with The Lego Ninjago Movie holding previews.
PARAMOUNT
Falling 46% in its third weekend, Paramount's mother! added a non-final $261,000 (£196,000) for $2.81m (£2.11m) to date.
LIONSGATE
Expanding to 81 sites in Ireland, Lionsgate's Maze boosted 9% with a $179,000 (£134,483) second weekend for $464,000 (£348,330) to date.
Also for Lionsgate, American Assassin fell 50% on its way to a $175,000 (£131,374) third weekend for $2.27m (£1.7m) so far.
CURZON ARTIFICIAL EYE
Falling 44% (excluding previews), Curzon Artificial Eye's Borg Vs McEnroe served up a $74,000 (£55,816) second weekend for $319,000 (£239,619) to date.
ALTITUDE
Including previews, Altitude's Daphne recorded a UK bow of $48,000 (£35,914) from its 23 sites.
MUNRO FILMS
Bruce Parry's Tawai - A Voice From The Forest grossed $25,000 (£19,123) from its 13 sites through Munro Films on its UK opening.
ARROW FILMS
From its three sites through Arrow Films, Zoology posted an overall UK debut of $7,200 (£5,390), taking $1,700 (£1,302) over the weekend.
VERTIGO RELEASING
Including two previews, Vertigo Releasing's Killing Ground recorded a UK opening of $4,500 (£3,342) from its one site.
PARK CIRCUS
Fashion documentary Manolo: The Boy Who Made Shoes For Lizards grossed $2,900 (£2,238) from its two sites on its UK bow through Park Circus.
UPCOMING RELEASES
This week sees saturation releases for Sony's Blade Runner 2049 (opens October 5) and Fox's The Mountain Between Us.
Lionsgate's The Glass Castle receives a wide release, while Lorton Distribution's On The Road and Dogwoof's The Reagan Show are among the films receiving a limited release.