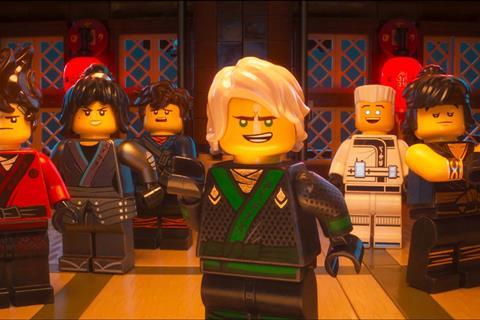 UK TOP FIVE
| Ranking | Film/Distributor | Weekend gross | Running total |
| --- | --- | --- | --- |
| 1 | The Lego Ninjago Movie (WB) | $4.84m (£3.64m) | $4.84m (£3.64m) |
| 2 | Blade Runner 2049 (Sony) | $4.12m (£3.1m) | $16.2m (£12.2m) |
| 3 | The Snowman (Universal) | $1.83m (£1.38m) | $1.83m (£1.38m) |
| 4 | Kingsman: The Golden Circle (Fox) | $1.79m (£1.35m) | $29m (£21.78m) |
| 5 | Botoks (Phoenix) | $1.05m (£792,477) | $1.05m (£792,477) |
(Note - Dollar conversions are based on today's rates)
WARNER BROS
Thanks to last weekend's previews, The Lego Ninjago Movie managed to dethrone Blade Runner 2049 at the top of the UK box office.
Warner Bros' animation assembled $4.84m (£3.64m) from its 612 sites, including $2.07m (£1.55m) in previews. Its Fri-Sun tally of $2.77m (£2.08m) would have seen it chart second.
The debut is less than half the bows of the previous two Lego outings in the UK which both opened around the $10.6m (£8m) mark, with The Lego Movie and The Lego Batman Movie going on to take $45.6m (£34.3m) and $35.8m (£26.9m), respectively.
While The Lego Ninjago Movie could do decent business on Saturdays and Sundays in the coming weeks, it won't come close to those totals.
Also for Warner Bros, It fell almost 50% with a $547,000 (£411,000) sixth weekend and has now scared up an excellent $42.2m (£31.75m).
SONY
Blade Runner 2049 led the market over Fri-Sun as a 41% drop (excluding previews) saw it post a $4.12m (£3.1m) second weekend.
Sony's sci-fi sequel is now up to a decent $16.2m (£12.2m) after 11 days in play, considerably overperforming in the UK based on the 10% US rule which would predict an $8.1m (£6.1m) running total at this stage.
As expected, Blade Runner 2049 is now director Denis Villeneuve's highest-grossing UK release ahead of Arrival.
UNIVERSAL
The Snowman battled negative reviews as it charted third on its UK bow.
Universal's adaptation uncovered $1.83m (£1.38m) from its 532 sites, marking a $3,441 (£2,588) site average. It's a solid opening given the critical response, although there's a chance it'll be a fast burner.
Also for Universal, Victoria And Abdul fell 53% with a $294,000 (£221,257) fifth weekend for $12m (£8.99m) to date, and will likely end its run as Stephen Frears' second best UK performer.
Despicable Me 3 boosted 36% in its 16th week of release with $158,000 (£119,028) for a terrific $62.8m (£47.19m).
FOX
Kingsman: The Golden Circle fell a respectable 36% on its way to a non-final $1.79m (£1.35m) fourth weekend.
Fox's action sequel has now shot to $29m (£21.78m) to date, making it the 16th release of 2017 to cross the £20m mark.
Also for Fox, The Mountain Between Us dropped 38% as it journeyed to a $644,000 (£484,006) second weekend for $2.34m (£1.76m) so far, while Goodbye Christopher Robin added $274,000 (£206,025) for $3.04m (£2.29m) after three weeks in play.
Captain Underpants and Judwaa 2 have amassed $10.8m (£8.1m) and $572,000 (£430,259), respectively.
PHOENIX
Polish hospital drama Botoks rounded off this week's top five with an excellent $1.05m (£792,477) opening from its 218 sites.
It's the latest hit for distributor Phoenix following the success of Pitbull: Tough Women, also from Botoks director Patryk Vega, which landed in December 2016 with $607,000 (£456,375) from its 104 sites.
EONE
The Ritual charted seventh with a $564,000 (£424,243) UK debut from its 375 sites, including $41,000 (£31,057) in previews.
eOne's horror recorded an underwhelming $1,505 (£1,131) site average and will be hoping to draw in the horror crowd before Halloween, although Happy Death Day arrives this Friday to provide further competition.
Also for eOne, The Jungle Bunch has swung to $1.7m (£1.28m) after five weeks in play.
ALTITUDE
Including its live premiere event last Monday (October 9), Altitude's Loving Vincent drew up a non-final UK bow of $364,000 (£274,005) from its 105 sites, delivering a site average of $3,470 (£2,610).
Over the weekend, the fully painted animated feature grossed $134,000 (£100,437).
PICTUREHOUSE ENTERTAINMENT
Fresh from its London Film Festival screenings, Picturehouse Entertainment's The Party opened with $312,000 (£234,983) from its 65 sites, including $19,000 (£14,161) in previews.
It achieved a strong site average of $4,807 (£3,615) and has already outgrossed director Sally Potter's previous outing, Ginger & Rosa, and will look to capitalise on the midweek arthouse crowd.
LIONSGATE
Falling only 30% in its fourth week, Lionsgate's Maze added $83,000 (£62,237) for $849,000 (£638,547) to date in Ireland.
STX INTERNATIONAL
In its third weekend, STX International's Home Again took $79,000 (£59,730) for $1.51m (£1.13m) so far.
ARROW FILMS
From one-off shows in 17 sites, Arrow Films' re-release of Hellraiser grossed $4,200 (£3,192).
VERTIGO RELEASING
Finally receiving a UK release before Thor: Ragnarok comes out, Taika Waititi's Boy posted a debut of $3,500 (£2,653) from its four sites through Vertigo Releasing.
UPCOMING RELEASES
This week sees saturation releases for Warner Bros' Geostorm, Lionsgate's My Little Pony, Universal's Happy Death Day and eOne's The Death Of Stalin.
Sony's Marshall and BBC Earth Films/Munro Films' Earth: One Amazing Day both receive wide releases, while Dogwoof's Dina and Curzon Artificial Eye's I Am Not A Witch are among the films receiving limited releases.