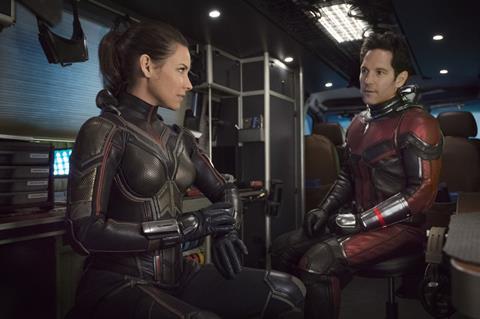 Expect another strong weekend at the UK box office, with Disney's Ant-Man And The Wasp (released on Thursday August 2) taking on Mamma Mia! Here We Go Again and Mission: Impossible – Fallout.
The original Ant-Man opened with £4.8m in the UK, going on to make £19m – a somewhat below par score for a non-Avengers Marvel film. Black Panther and Thor: Ragnarok ended up on £53m and £30m respectively.
The sequel, once again starring Paul Rudd and Evangeline Lilly will face competition from the resurgent Mission: Impossible – Fallout, which opened with a franchise record £5.4m last weekend and has been buoyed by strong reviews (it is currently 97% on Rotten Tomatoes).
Mamma Mia! Here We Go Again topped the box office last week despite Mission's success, and could once again battle for the number one. It's already up to £27m in the UK and will be one of the year's biggest films, even if it probably won't match the original's £68.6m.
Warner Bros' Teen Titans Go! To The Movies opens on more than 300 screens this weekend. The animation based on the DC characters debuted in the US last week, making $10.4m.
Among this week's arthouse releases is A Sicilian Ghost Story via Altitude. The Italian crime drama directed by Fabio Grassadonia and Antonio Piazza opened Critics' Week at the 2017 Cannes Film Festival.
Gemma Arterton stars in The Escape, released by Vertigo this weekend. The drama, co-starring Dominic Cooper and directed by Dominic Savage, premiered in Toronto last year.
Park Circus are releasing 2018 Sundance comedy drama Hearts Beat Loud, which stars Nick Offerman, Kiersey Clemons and is directed by Brett Haley.
Mubi are rolling out Xavier Giannoli's The Apparition today. The French thriller revolving around a girl who claims to have seen the virgin Mary stars Cannes 2015 best actor winner Vincent Lindon.
French animated comedy anthology The Big Bad Fox And Other Tales…, which premiered at Annecy on 2017, is released by Studiocanal. Directed by Benjamin Renner and Patrick Imbert, it features an English language voice including Matthew Goode, Adrian Edmonds and Celia Imrie.