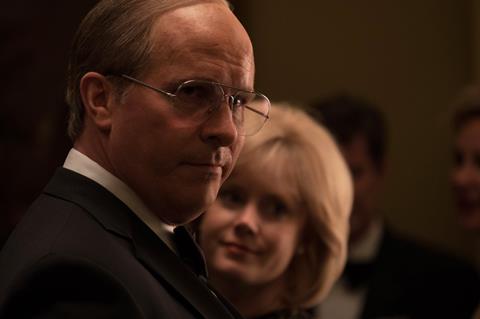 This week's new releases in UK cinemas include Entertainment One's Dick Cheney biopic Vice.
The film stars Christian Bale as the former vice president to George W. Bush. Amy Adams, Steve Carell and Sam Rockwell co-star.
It scored eight Oscar nominations this week, including for best picture, director and original screenplay for Adam McKay, leading actor for Bale, supporting actor for Rockwell, supporting actress for Adams, as well as editing and makeup/hairstyling.
Vice has taken $40m (£30.5m) in the US so far after a $7.8m (£6m) opening weekend. The film's US subject matter could mean the film struggles to deliver a comparative result on these shores, but director McKay's films have tended to perform well in the UK.
His top-grossing title is Anchorman 2: The Legend Continues, which opened with £4.5m in 2013 and ended on £14.5m. Other McKay titles to have performed well here include The Other Guys (£8.2m), Step Brothers (£6.4m), and The Big Short (£6.4m).
Also opening this week is Lionsgate's Destroyer, starring Nicole Kidman as a hard-bitten LA cop looking to settle some old scores.
Director Karyn Kusama's films haven't had much play in the UK. Comedy/horror Jennifer's Body grossed £1.4m in 2009, while Aeon Flux took just £1.1m in 2006. The film will be relying on Kidman's star to propel its grosses, though its gritty nature may prevent it from appealing to a mainstream crowd.
Also opening this weekend is Clint Eastwood's latest directing effort The Mule, via Warner Bros. Starring Eastwood alongside Bradley Cooper and Laurence Fishburne, the film follows a 90-year-old horticulturist and Korean War veteran who is caught transporting cocaine through Illinois for a Mexican drug cartel.
Eastwood's films have delivered mixed results in the UK in recent years. Terrorism drama The 15:17 To Paris grossed just £649,514 in 2018, while plane crash story Sully took £8m in 2016, and American Sniper (also starring Bradley Cooper) took £13.7m in 2015.
STX Entertainment is releasing Peter Segal's Second Act, starring Jennifer Lopez, in cinemas this weekend. The film, about a shop worker who reinvents herself as a big city businesswoman, has taken $38m (£29m) so far in the US.
Also on release this weekend are family feature A Dog's Way Home via Sony Pictures, feature documentary Bergman - A Year In A Life via BFI Distribution, On Her Shoulders via Dogwoof, Tabrez Noorani's Love Sonia via Modern Films, Pierre Schoeller's One Nation, One King via Studiocanal, and Olga Chajdas' Nina via Peccadillo.
Key holdovers include Glass, Mary Queen Of Scots, Stan & Ollie and The Favourite.