Disney's Star Wars spin-off overtakes Warner Bros' Fantastic Beasts on final day of the year.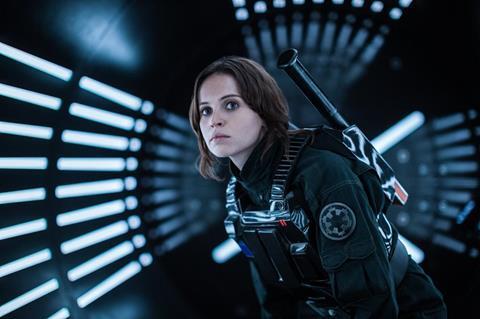 UK TOP FIVE
| Ranking | Film/Distributor | Weekend gross | Running total (to Jan 2) |
| --- | --- | --- | --- |
| 1 | Rogue One (Disney) | $7.3m (£5.96m) | $66.1m (£53.96m) |
| 2 | Why Him? (Fox) | $2.68m (£2.18m) | $3.1m (£2.53m) |
| 3 | Passengers (Sony) | $2.33m (£1.9m) | $9.8m (£8m) |
| 4 | Monster Trucks (Paramount) | $2.12m (£1.73m) | $2.46m (£2.01m) |
| 5 | Moana (Disney) | $1.98m (£1.62m) | $17.6m (£14.32m) |
(Note - Dollar conversions are based on today's rates)
DISNEY
Rogue One: A Star Wars Story saw out 2016 in style as it became the biggest release of the year on Saturday (December 31).
Overall, Disney's spin-off blasted to a $7.3m (£5.96m) third weekend for $66.1m (£53.96m) after only 18 days in play, one of which (Christmas Day) saw most cinemas closed. That tally includes $2.31m (£1.89m) taken yesterday (January 2).
Rogue One has already overtaken Revenge Of The Sith ($48.6m/£39.43m) and Attack Of The Clones ($46.3m/£37.55m), and will soon surpass The Phantom Menace's combined total of $69.5m (£56.41m) in the UK, which includes its 3D re-release.
It currently ranks as the 18th biggest release of all time at the UK box office, but will jump a few places by the end of this coming weekend.
Also for Disney, Moana sailed to a $1.98m (£1.62m) fifth weekend for $17.6m (£14.32m) to date.
The animation has rebounded superbly from its soft opening and will likely to continue to prosper over the coming weekends until the arrival of Universal's Sing on January 27.
Overall, Disney provided three of 2016's top five highest grossing films, with Rogue One joining Finding Dory and The Jungle Book. The distributor has five in the year's top ten, including The Force Awakens' 2016 haul and Captain America: Civil War.
FOX
Why Him? was the best of the Boxing Day openers as it landed second on its UK bow.
Fox's comedy took $2.68m (£2.18m) from its 448 sites, including $1.67m (£1.36m) from Mon-Thurs. It narrowly missed out on being director John Hamburg's best-ever opening, which remains Along Came Polly's $2.76m (£2.25m) from 385 sites.
Including Monday, Why Him? is up to $3.1m (£2.53m) and as the sole major comedy outing in the market currently, it will hope to follow Daddy's Home which was released on Boxing Day in 2015 and went on a terrific run to gross $21.3m (£17.4m).
Based solely on Fri-Sun tallies, the comedy would have charted fifth with $1m (£821,036).
SONY
Passengers dropped one place to third as a result of Why Him?'s extended opening with a $2.33m (£1.9m) second weekend.
Sony's sci-fi romance is up to a healthy $9.2m (£7.5m) after opening with $2.97m (£2.42m) last weekend. It will need sturdy holds if it's to reach the $20.1m (£16.4m) result of director Morten Tyldum's previous film, The Imitation Game.
Monday saw it cross the $9.8m (£8m) mark at the box office.
PARAMOUNT
Monster Trucks revved into fourth after opening on Boxing Day.
Paramount's family outing grossed a non-final $2.12m (£1.73m) from its 473 sites, including $1.2m (£979,000) from Mon-Thurs. It took $353,000 (£288,000) yesterday to reach $2.46m (£2.01m).
With Rogue One still bringing in the crowds, Monster Trucks could struggle to have a long run now that children are back at school. Its Fri-Sun tally of $915,000 (£746,000) would have seen it chart sixth.
WARNER BROS
Fantastic Beasts And Where To Find Them conjured up a $1.86m (£1.52m) seventh weekend as it continued its excellent UK run.
Warner Bros' spin-off is up to a magical $63m (£51.4m) and briefly became 2016's biggest film last Wednesday (December 28). In terms of Harry Potter outings, it's the fifth highest grossing and could soon overtake Deathly Hallows: Part 1's $64.4m (£52.5m).
Also for Warner Bros, Collateral Beauty posted a lacklustre $1.65m (£1.34m) UK debut from its 409 sites, including $841,000 (£686,000) from Mon-Thurs.
That does mark director David Frankel's third-best UK opening overall, but its Fri-Sun tally of $602,000 (£491,000) ranks among his lowest. It would have seen the film chart eighth instead of seventh.
Sully: Miracle On The Hudson added $304,000 (£248,000) for $8.63m (£7.04m) after five weeks in play. It will end its run as Clint Eastwood's third-best UK result as director.
EONE
In its second weekend, eOne's Ballerina danced to $728,000 (£593,910) for a decent $2.67m (£2.18m) as of Sunday (January 1).
Also for eOne, Arrival, The BFG and Office Christmas Party stand at $11.2m (£9.14m), $37.7m (£30.74m) and $3.77m (£3.08m), respectively.
UPCOMING RELEASES
New Year's Day saw the saturation releases of Fox's Assassin's Creed, eOne's A Monster Calls and Studiocanal's Silence, which will all be counted in next week's chart with eight-day openings.
Curzon Artificial Eye's Endless Poetry and Guerilla Films' Zero Days both receive limited releases from Friday (January 6).