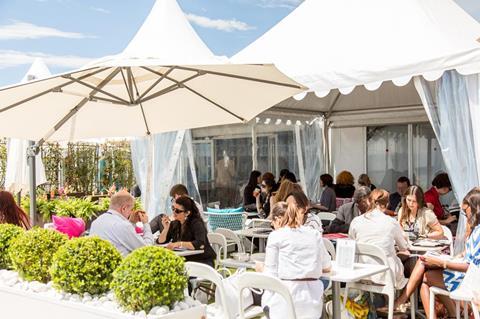 Talent talks from directors Ken Loach, Jessica Hausner and Asif Kapadia all feature on the UK Film Centre's programme of industry events at this year's Cannes Film Festival (May 14-25).
This year's programme also includes panels on international talent labs, working with online platforms, and a behind the scenes look at BBC Films and Film4.
The UK Film Centre is at Pavilion 116 in the International Village Riviera in Cannes, and is open daily from 9am to 6pm.
It hosts topical industry events, showcases UK films and co-productions, acts as an information point for the UK film industry and offers meeting spaces and a café.
The full programme is available on the UK Film Centre website.
Previous events
Thursday May 16
Talent Talk: Sorry We Missed You
With filmmaker Ken Loach, screenwriter Paul Laverty and producer Rebecca O'Brien in conversation with UK Film Centre event programmer and film festival consultant/journalist Wendy Mitchell. Sorry We Missed You starring Kris Hitchen, Debbie Honeywood, Rhys Stone and Katie Proctor, is Loach's sixteenth film selected for the Competition line-up.
Friday May 17
How international talent labs can help boost your career (in association with British Council)
Speakers: Paul Federbush, international director, feature film program (Sundance); Savina Neirotti, executive director (TorinoFilmLab), Savvas Stavrou, filmmaker; Marit van den Elshout, head of industry, (International Film Festival Rotterdam) Moderator: Jo Duncombe, film programme manager (British Council)
Brave new worlds: Creating and finding audiences for immersive and interactive content
Speakers: Louis Cacciuttolo, CEO (VRrOOm); Maxime Montagne, head of business affairs, acquisition and VR department (WIDE); Liz Rosenthal, CEO, (Power to the Pixel) and curator, (Venice VR); Eleanor Whitley, executive producer (Marshmallow Laser Feast) Moderator: Ben Roberts, deputy chief executive,(BFI)
Saturday May 18
The Frontline of Producing: Experts reveal their lessons learned
Speakers: Sol Bondy, producer, One Two Films (The Tale, Under The Tree); Simon Gillis. COO, Film Division, (See-Saw Films Widows, Ammonite); Katrin Pors, producer (Snowglobe Film, Birds of Passage, A White, White Day)Elhum Shakerifar, producer, (Hakawati A Syrian Love Story, Almost Heaven) Moderator: Nancy Tartaglione, international editor (Deadline)
What filmmakers really need to know about working with online platforms (in association with Screen International)
Speakers: Al Clark, producer, (Wellington Films, Calibre); Emily Gotto, consultant (AMC Networks, Shudder, Piki Films); Vanja Kaludjercic, director of acquisitions (MUBI); Pierre-Alexandre Labelle, co-founder, (Under The Milky Way) Moderator: Tom Grater, senior reporter (Screen International)
Behind the Scenes with the Broadcasters: The outlook from Film4 and BBC Films
Speakers: Daniel Battsek, director (Film4); Rose Garnett, director (BBC Films) Moderator: Ben Roberts, deputy chief executive (BFI)
Sunday May 19
Talent Talk: Diego Maradona
Director Asif Kapadia and producers James Gay Rees and Paul Martin, Moderator: Kaleem Aftab, journalist
Beyond Brexit: Sustaining creative collaborations
Speakers: Harriet Finney, director of external affairs (BFI); Christine Eloy, general manager, (Europa Distribution); Malte Grunert, producer (Amusement Park Film); Agnieszka Moody, director (Creative Europe Desk UK) Moderator: Wendy Mitchell, events curator (UK Film Centre)
Deep impact: How films can effect social change
Speakers: Waad Al-Kateab, director, (For Sama); Edward Watts, director (For Sama); Zak Brilliant, founder (Republic Film Distribution); Laura Kim, SVP of marketing (Participant Media); Mette Hoffmann Meyer, CEO and co-founder (Why Foundation) Moderator: Wendy Mitchell, events curator (UK Film Centre)
Making the most of your UK shoot (in association with the British Film Commission)
Speakers: Chris Moll, fund advisor (Liverpool Film Office); Hugo Heppell, head of investments (Screen Yorkshire); Andrew Prendergast, producer (Helix Media Group, The Courier) Brodie Pringle, head of screen commission (Screen Scotland) Moderator: Adrian Wootton, CEO (British Film Commission)
Mon May 20
Why we need more inclusive crew
Speakers: Benjamin Bond, producer (Starcross Entertainment) and director (
Talent Talk: Little Joe
Director Jessica Hausner, co-writer Geraldine Bajard, producers Gerardine O'Flynn and Bertrand Faivre (The Bureau) Moderator; Tricia Tuttle, director (BFI Festivals)
Blockchain in Action: Meet the companies transforming the industry
Speakers: Sam Klebanov, founder, (Cinezen); Alan R. Milligan, founder and CEO (White Rabbit); Maria Tanjala, co-founder, (Big Couch); Ashley Turing, founder and CEO, (LiveTree)
Tues May 21
Girls on Film podcast
Speakers: Delphyne Besse, co-founder (Collectif 5050x2020); Leslie Felperin, critic (The Hollywood Reporter) Host: Anna Smith, film critic and broadcaster
Wed May 22
Talent Talk: Wounds
Babak Anvari, writer/director; Lucan Toh, producer; Christopher Kopp, producer Moderator: Damon Wise