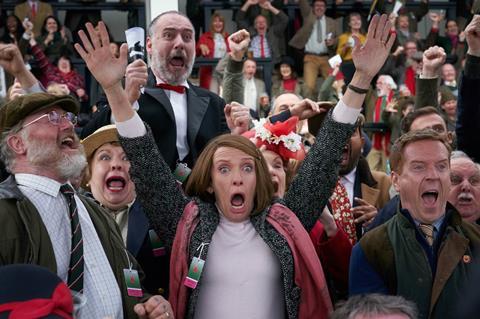 Fourteen UK productions or co-productions will play at the Sundance Film Festival in Park City next month.
This is up on the 12 that screened at the previous festival in 2019 and 13 in 2018.
Among the titles announced yesterday are five from BBC Films, including Aneil Karia's Surge, which plays in the world cinema dramatic competition. Starring Ben Whishaw, it follows a man who goes on a reckless journey of self-liberation through London after robbing a bank. Produced by Julia Godzinskaya and Sophie Vickers, it was backed by the BFI.
Remi Weekes' horror His House will screen in the Midnight strand and was backed by Los Angeles-based New Regency Pictures with BBC Films as a minority financing partner, while Eliza Hittman's Never Rarely Sometimes Always is a title produced by the US team behind Moonlight at Pastel and was developed and co-financed by BBC Films. It will play in the US dramatic competition.
Further BBC Films titles set to receive their premiere in Park City include Sean Durkin's The Nest, which stars Jude Law and was co-produced with Element Pictures and FilmNation; and Phyllida Lloyd's Herself, which was also co-developed by Ireland's Element and includes Sharon Horgan as a producer for Merman with backing from the BFI and Screen Ireland. Cornerstone Films is handling sales.
Film4 has two titles headed to Sundance. The first is Euros Lyn's Dream Horse, about a woman played by Toni Colette who starts a racing syndicate in her small Welsh village and attempts to raise a champion racehorse. The film is from London-based outfit Raw, with producers Katherine Butler and Tracy O'Riordan. Cornerstone Films has worldwide sales and Warner Bros is distributing in the UK.
The other Film4 title is Florian Zeller's The Father, starring Anthony Hopkins and Olivia Colman, and is a co-production between the UK's Trademark Films and France's FCommeFilm, Ciné-@ and Les Films du Cru. In the film, Hopkins plays an 80-year-old who lives alone and refuses outside help, despite his advancing years. Embankment Films is selling the film around the world.
There are a further two titles in the world cinema dramatic competition with UK co-production credits. Zeina Durra's Luxor is a romantic drama that follows a UK aid worker, played by Andrea Riseborough, who returns to the sleepy city on the banks of the Nile. It was produced by Cairo-based Film Clinic and veteran UK producer Paul Webster (Atonement, Eastern Promises).
The other film is genre thriller Possessor, directed by Brandon Cronenberg, which also counts Riseborough among its cast. It is a co-production between Canada's Rhombus Media and the UK's Rook Films.
In the world cinema documentary competition is Anabel Rodríguez Ríos' Once Upon A Time In Venezuela, in which several inhabitants of a small Venezuelan village deal with the gradual disappearance of their environment. London-based Spiraleye Productions are co-producers on the Venezuela-UK-Brazil-Austria production.
The other UK title in the strand is Jerry Rothwell's The Reason I Jump, which explores the experiences of non-speaking autistic people and is a co-production of the UK's Vulcan Productions, the BFI, the Idea Room, MetFilm Production, and Runaway Fridge.
Falling marks Viggo Mortensen's directorial debut and is a co-production of his own Perceval Pictures, Canada's Scythia Films and London-based Zephyr Films. Hanway Films has international rights.
Dominic Cooke's Ironbark stars Benedict Cumberbatch in the true story of a UK businessman unwittingly recruited into the Cuban Missile Crisis. Producers are London-based 42, Cumberbatch's SunnyMarch and FilmNation Entertainment.
A further UK title set to screen in the Midnight strand is Romola Garai's Amulet, about a homeless ex-soldier who takes up an offer to stay in a decaying house with a young woman and her dying mother. Producers include the UK's Stigma Films and Dignity Film Finance.
On the decision to launch Amulet at Sundance, Stigma Films founder Matthew James Wilkinson told Screen that the festival "knows how to deal with genre material and how to position it in a way that it won't get lost competing with other films."
He added: "There's also the legacy of the films that have played there. [We're] getting a slot where Hereditary played there two years ago - its a great platform for elevated genre and new voices."
Finally, in the kids strand, Come Away is a UK-US co-production starring Angelina Jolie and David Oyelowo, and is directed by Brenda Chapman. Presented as a prequel to the stories of Peter Pan and Alice In Wonderland, it is produced by UK outfit Fred Films with Oyelowo's Yoruba Saxon Productions.
Sundance Film Festival runs from January 23–February 2, 2020.