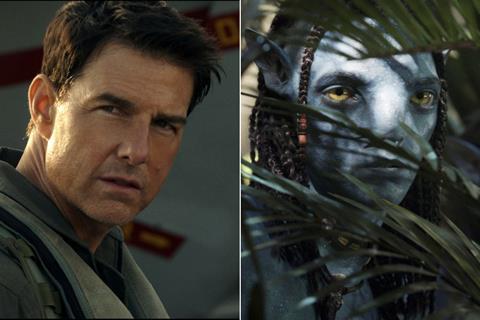 The 2022 UK-Ireland box office is tracking at 80% of the last complete pre-pandemic year, with cinemas continuing a recovery towards full strength; as eyes turn to the release schedule for the remainder of the year.
According to data provided by Comscore, total box office for 2022 stood at £493m at the end of June, compared to £614.2m for the first six months of 2019.
Should box office continue at this rate, 2022 will end at £1.08bn. That figure would be 80.1% up on the £597m total for 2021, when cinemas were closed until mid-May; and 234.4% up on the £323m of 2020, when cinemas were closed on-and-off from mid-March onwards amid lockdowns and a sparsely-populated release calendar.
This year has been buoyed by the success of Paramount's Top Gun: Maverick, at £70.6m last weekend, plus Disney's Doctor Strange In The Multiverse Of Madness (£42.1m) and Warner Bros' The Batman (£40.8m).

A strong June saw £95.8m box office, down only 0.6% on the £96.4m from June 2019. This compares favourably to January 2022, when takings were at 61% of January 2019.
Takings for the top 15 this past weekend were £20.3m – the fourth-highest total for the top 15 in the last year. It was 3% up on the weekend before, and an impressive 102% up on the same weekend last year, which took just over £10m.
Release schedule
The above figures are cause for optimism for a sector still recovering from two years of unprecedented challenges. However there should be caution for the remainder of 2022, with a summer/autumn blockbuster slate that suggests lower earning potential than in 2019, and perhaps even last year.
Releases in the second half of 2019 included The Lion King (£76m total), the main run of Toy Story 4 (£66.2m), Joker (£58.3m), Frozen 2 (£53.8m), Spider-Man: Far From Home (£37.3m), plus the first 11 days of Star Wars: The Rise Of Skywalker (£58.3m). Last year was dominated by the record-breaking releases of Universal's James Bond title No Time To Die (£98m) and Sony's Spider-Man: No Way Home (£96.5m), the third- and fourth-highest-grossing titles of all time in the territory.
Exhibitors will hope to capitalise on 13 years of anticipation for Disney release Avatar: The Way Of Water on December 16. The first title remains the sixth-highest-grossing film of all time with £94m, and is one of only three titles in the top 15 to be released before 2010, alongside Titanic and Mamma Mia!.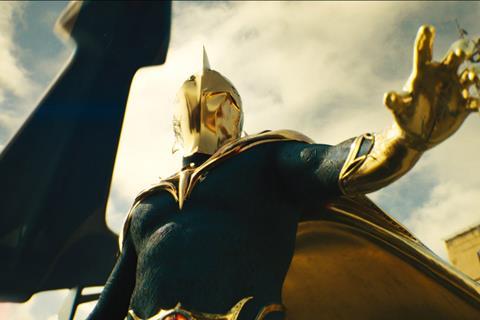 Cinemas will also look to reliable box office draw Dwayne 'The Rock' Johnson, who features in two of the major titles for the remainder of the year: DC League Of Super-Pets (July 29) in a voice-role; and superhero blockbuster Black Adam (October 21), both for Warner Bros.
Other films with the potential for big grosses include Disney's Black Panther: Wakanda Forever (November 11), after the first film took £50.8m in 2018; Sony's Roald Dahl's Matilda The Musical (December 2); and Warner Bros' Shazam! Fury Of The Gods (December 21) – the first film managed £13.4m.
However, August looks comparatively sparse for big titles, with exhibitors hoping for Sony's Bullet Train (August 3) with Brad Pitt, Universal's Jordan Peele horror Nope and romance Eiffel from Vertigo (both August 12) to break out with audiences.
One sign of the lack of major new films is the number of re-releases populating schedules over the rest of the year. These include last year's Spider-Man: No Way Home from Sony (September 2); the first Avatar from Disney (September 23); Bram Stoker's Dracula through repertory specialists Park Circus (October 7); Harry Potter And The Chamber Of Secrets through Warner Bros (October 28); and the Star Trek films through Paramount (throughout the year).
Additional reporting by Charles Gant.