In other Cottbus news, F&ME boards The Disciple and Macedonia backs Sugar Kid.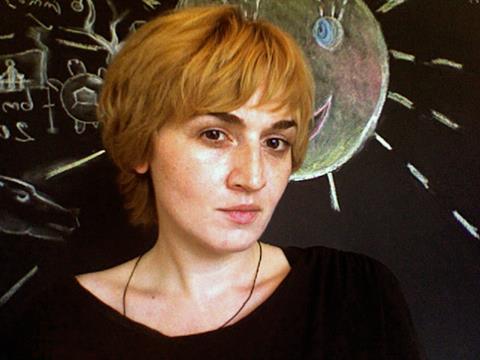 Projects from Ukraine and Georgia were the award-winners at this year's edition of the East-West co-production market connecting cottbus (November 5-6).
Ukrainian filmmaker Max Ksjonda's feature debut Tank received the CoCo Best Pitch Award sponsored by Eurotape Medien Service to the tune of €1,500 plus a free accreditation to the Producers Network at next year's Cannes Film Festival, while a jury of Film Repubic's Xavier-Henry Rashid, Sarajevo Film Festival's Elma Tataragic and The Post Republic's Jan-Philip Lange chose Rusudan Chkonia's [pictured] black comedy Venice for the CoCo Post Pitch Award offering a colour correction and DCP worth €25,000.
Tank, which will be produced by Max Serdiuk's Kiev-based production outfit Noosphere Films, already has in-kind investment of equipment by Ukraine's TechnoRent and private equity investment from Cyprus-based Pride Capital.
The project was previously pitched at the Odessa Film Festival's Film Industry Office forum in July
Venice will see Chkonia's own company Nike Studio working with Vladimer Katcharava's 20 Steps Production, which has recently produced Mohsen Makhmalbaf's The President and Ben Hopkins' Lost In Karastan.
The first edition of connecting cottbus under the new artistic director Rebekka Garrido attracted professionals from all over Europe, including Laurent Danielou (Loco Films), Sasha Wieser (EastWest Filmdistribution), Petra Weisenburger (Nipkow Programm), Alessandro Gropplero (When East Meets West), Alex Traila (Transilvania International Film Festival), Just Film Distribution's Jean Heijl, producers Karsten Stöter (Rohfilm), Guido Schwab (Ostlicht Filmproduktion), Miroslav Mogorovic (Art&Popcorn), Petra Goedings (Phantavision), Eike Gorezczka (42Film), Jiri Konecny (endorfilm), Anna Katchko (Tandem Film), Ales Pavlin (PERFO), Alexander Ris and Christine Haupt (Neue Mediopolis Filmproduktion), and Denis Vaslin (Volya Films).
F&ME boards Koza director's new project
During Thursday's session of public pitchings for the 10 projects, Slovak director Ivan Ostrochovský revealed that Pavel Strnad's Negativ Film and Mike Downey and Sam Taylor's F&ME will serve as co-producers on his second feature The Disciple coming after his award-winning feature debut Koza.
Described as a "crossover between arthouse and genre," the new project penned by Ostrochovský with Koza co-writer Marek Lescak centres on the investigation of a suicide committed by a young student of the Roman Catholic Seminary during the 1980s in Czechoslovakia when the State Security monitored the Church and the entire society.
Koza's sales company, the fledgling Berlin-based Pluto Film, is set to handle international sales for The Disciple as well.
€1m in place for Macedonian family adventure
Skopje Film Studio has already attracted €1m financing - a third of the budget - for Igor Ivanov's family adventure film Sugar Kid which has received production support from the Macedonian Film Agency, in-kind investment from Sektor Film for the construction of the studio set, with production design by the veteran Serbian production designer Milenko Jeremic (Black Cat, White Cat and Life Is a Miracle).
Serbia's Art&Popcorn and Bulgaria's Audiovideo Orpheus are onboard as co-producers for the mixture of Western adventures and Eastern fairytales condensed into the modern era.
Tomi Salkovski's Skopje Film Studio was also in Cottbus with Darijan Pejovski's Three Days In September which is screening in film festival's Feature Film Competition today after premiering at the Montreal World Film Festival.
Baseski returns to production
After almost seven years as head of the Macedonian Film Agency (previously known as the Macedonian Film Fund), Darko Baseski is to return to the world of production.
Speaking to ScreenDaily at this week's connecting cottbus, he said that he will be re-activating his production company Focus In to handle the production of feature films and documentaries.
First festival awards

Kirgiz filmmaker Mirlan Abykalykov's Heavenly Nomadic has been presented with the "Cottbus into the Cinema" Prize by Medienboard Berlin-Brandenburg as a financial contribution of up to €10,000 towards the costs of distribution of the film by Neue Visionen Filmverleih in German cinemas.
In addition, Romania's Nicolae Constantin Tanase received the €4,000 Cottbus Discovery Award for his debut The World Is Mine.