Netflix is top of the pile.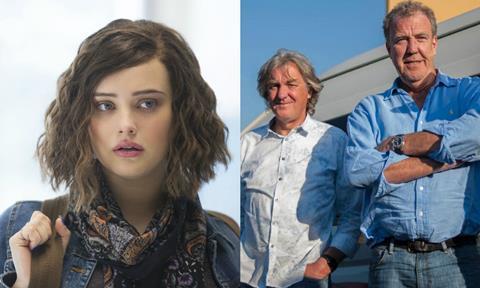 Scroll down for full list
Netflix teen drama 13 Reasons Why has edged out Amazon's The Grand Tour as the most in-demand digital series in the UK, according to research by data firm Parrot Analytics.
Netflix is responsible for seven of the top 10 originals in the second quarter of 2017, though Amazon's The Grand Tour and Hulu's The Handmaid's Tale, which aired on Channel 4, completed the top three.
Amazon's The Man In The High Castle is also in the top 10 and Parrot's European director Courtney Williams expects the Jeff Bezos-led firm to catch up to Netflix in the near future.
"Based on Amazon's continued investment in originals both out of the US and local markets, you'll see Netflix's hold on this chart change."
LA-based Parrot Analytics examines overall engagement around content, and its rankings encompass illegal streams and downloads, as well as social media impressions and data from critics and blogs.
Williams also highlighted the illicit demand for some series from Sony Pictures Entertainment-owned streaming service Crackle and YouTube Red – which are as yet unavailable in the UK.
According to Parrot data, Crackle's Rupert Grint-fronted Snatch and Bryan Cranston-voiced animated series SuperMansion have substantial followings, alongside YouTube Red originals Rhett & Link's Buddy System and murder mystery reality series Escape The Night.
"We were surprised that Crackle had such a following here," said Williams.
"It shows that people now look for the most relevant content from anywhere in the world on the day it airs and, as a result, youth who are able to torrent are much more active in downloading."
Similarly, data showed that UK audiences have a strong appetite for Norwegian broadcaster NRK's teen multiplatform drama Skam, which has not yet aired in the UK.
Simon Fuller's XIX Entertainment has optioned the Skins-style drama for an English-language remake. The impetus behind Netflix's acquisition of Scottish comic book firm Millarworld – the first to be acquired by the SVoD firm – is also illustrated in the popularity of superhero titles such as Marvel's Luke Cage, Iron Fist and Daredevil.
"The reason Marvel shows work is because they appeal to a younger demographic that is more active and can consume content on TV and handheld devices," said Williams.
He noted that while the UK is still a heavily terrestrial market compared with the US, this may change "fairly quickly" – in two to three years – due to a proliferation of digital platforms and more cultural and commercial engagement around SVoD originals.
This story first appeared on Screen's sister publication Broadcast.
| Top 10 in-demand digital originals in the UK (1 April – 30 June, 2017) | |
| --- | --- |
| 13 Reasons Why | Netflix |
| The Grand Tour | Amazon |
| The Handmaid's Tale | Hulu / All4 |
| Orange Is The New Black | Netflix |
| Marvel's Iron Fist | Netflix |
| House of Cards | Netflix |
| Sense8 | Netflix |
| The Keepers | Netflix |
| The Man in the High Castle | Amazon |
| The Crown | Netflix |
| Stranger Things | Netflix |
| Marvel's Luke Cage | Netflix |
| The Good Fight | CBS All Access / All4 |
| Narcos | Netflix |
| Skam | NRK |
| Harlots | Hulu / ITV Hub |
| Bloodline | Netflix |
| Daredevil | Netflix |
| Master of None | Netflix |
| The Get Down | Netflix |
| Dear White People | Netflix |
| Unbreakable Kimmy Schmidt | Netflix |
| The OA | Netflix |
| Bosch | Amazon |
| Gilmore Girls | Netflix |