Fox/Pinewood Pictures' Spooks: The Greater Good is the week's highest new entry with $1.6m (£1m) from 419 sites.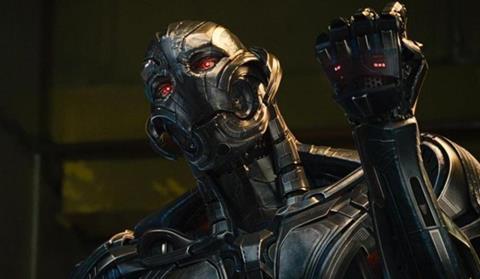 DISNEY
Avengers: Age of Ultron may have fallen 60% in its third weekend, but still comfortably managed to become the third film this year to record a hat-trick at the top of the chart and the year's biggest release to date in the process.
Disney's latest Marvel outing smashed its way to a further $5.4m (£3.5m) to lift its mighty running total to $62.2m (£40.33m), overtaking Fast & Furious 7 as the year's highest grossing film.
However, it may now find its quest to surpass its predecessor's $80m (£51.9m) UK result a bit trickier, given this week's big drop and the arrival of two major titles this weekend in Pitch Perfect 2 and Mad Max: Fury Road.
Marvel's Avengers Assemble fell 49% in its third weekend and stood at $62.1m (£40.28m) at the same stage.
Also for Disney, Cinderella became the third film to cross the £20m mark out of the distributor's four 2015 releases. The live-action remake added $493,000 (£320,000) for $30.9m (£20.02m) to date.
FOX
The week's highest new entry came in the form of Spooks: The Greater Good, a Pinewood Pictures release through Fox.
Including previews of just over $21,000 (£13,500), the big screen outing for the BBC spy series shot to a UK bow of $1.6m (£1m) from its 419 sites.
The result means that it is already director Bharat Nalluri's best-ever UK performer, outgrossing Miss Pettigrew Lives for a Day's $785,000 (£508,717) result.
Also for Fox, Far from the Madding Crowd fell 44% on its way to a $1.3m (£833,535) second weekend for $5.5m (£3.6m) to date. The adaptation enjoyed a healthy Mon-Thurs performance of $2m (£1.3m) during its first week.
Home has now reached $35m (£22.6m) following a $617,000 (£399,277) eighth weekend of release.
UNIVERSAL
Falling around 50% in its second weekend, Universal's cyber horror Unfriended logged into a further $1m (£661,741) for a ten-day tally of $4.3m (£2.8m).
Also for Universal, deposed 2015 champion Fast & Furious 7 added $852,000 (£550,986) for a terrific $58.4m (£37.7m), and still has an outside shot of crossing £40m.
ENTERTAINMENT
Rounding off this week's top five was Entertainment's The Age of Adaline with a sturdy $884,000 (£570,386) opening from its 368 sites.
Also for Entertainment, Woman in Gold has amassed $4m (£2.6m) after five weeks in play.
EONE
Big Game hunted down $819,000 (£531,660) on its UK debut from its 352 sites, including just over $92,000 (£60,000) in previews.
eOne's action outing is already director Jalmari Helander's best UK result, but it's worth noting that Rare Exports only played 31 sites at its widest.
Also for eOne, Two by Two fell 49% in its second weekend to take an extra $446,000 (£289,236) for $1.8m (£1.2m) after ten days in play.
STUDIOCANAL
With previews of $36,000 (£23,524), StudioCanal's Girlhood recorded a non-final UK bow of $103,000 (£66,427) from its 28 sites.
The opening means that the film is already director Céline Sciamma's best-ever UK performer, topping Water Lilies' $87,000 (£55,897) result.
PARAMOUNT
Top Five failed to make much of an impact in the UK as it took just $97,000 (£63,000) from its 126 sites through Paramount.
Also for Paramount, The SpongeBob Movie: Sponge Out of Water has now soaked up $12.3m (£7.99m).
SODA PICTURES
Released in 32 sites through Soda Pictures, Phoenix posted a UK bow of $59,000 (£38,033), including just under $3,100 (£2,000) in previews, to mark director Christian Petzold's best-ever UK debut ahead of Barbara's $39,000 (£25,321) from 12 sites.
CURZON FILM WORLD
For Curzon Film World, Force Majeure and A Pigeon Sat on a Branch Reflecting on Existence have grossed $776,000 (£503,877) after five weeks and $184,000 (£119,311) after three weeks, respectively.
METRODOME
Now in its third week of release, Metrodome's The Falling took an additional $25,000 (£16,414) for $561,000 (£362,849) to date.
NEW WAVE FILMS
Venice 2013 Grand Jury winner Stray Dogs grossed $1,900 (£1,222) from two shows at one site on its UK bow through New Wave Films.
UPCOMING RELEASES
This week sees saturation releases for Warner Bros' Mad Max: Fury Road (opens May 14), Universal's Pitch Perfect 2 and Lionsgate's A Royal Night Out.
Curzon Film World's Clouds of Sils Maria, Metrodome's The Tribe and Dogwoof's Lambert and Stamp are among the films receiving a limited release.