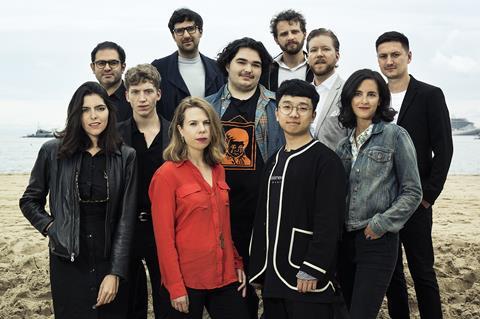 French filmmaker Charline Bourgeois-Tacquet and German-Polish director Oliver Adam Kusio have won the residency prizes at the fifth edition of Cannes Critics Week's first feature development programme Next Step.
Bourgeois-Tacquet will attend a month-long writing residency at the Moulin d'Andé-Céci screenwriting centre in Normandy to work on her debut feature project Un Amour d'Aliénor (which translates as A Love of Eleanor).
The love triangle tale revolves around a young woman called Aliénor who falls for an older man but then becomes obsessed with his partner, a brilliant writer and university professor who likes to isolate herself in the countryside to study and write.
It is produced by Stéphane Demoustier under his Année Zero banner and Philippe Carcassone at Cine@.
Demoustier is a long-time shorts producer who is making the transition into feature production. He won a special mention in the Berlinale's Generation 14plus section for his own directorial debut Cléo & Paul earlier this year. Prolific French producer Carcassone's other current projects include Anne Fontaine's Snow White-inspired erotic comedy Pure As Snow.
Kusio's prize entails a three-week Pop Up Film Residency in the Slovakian capital of Bratislava, run by TorinoFilmLab artistic director Mathieu Darras as a separate project.
He will work on his feature project Pax Europa, a political and social drama set in a small seaside village in northern Poland, where most of the inhabitants work for a Ukrainian oligarch, on the eve of a fictitious collapse of the European Union. Kusio has yet to attach a producer to the project.
Next Step marks its fifth edition
Bourgeois-Tacquet and Kusio were among eight directors participating in the fifth edition of Next Step, which was launched by Cannes Critics' Week in 2014 to help filmmakers whose short works had premiered in its short film competition make the leap into directing feature-length films. They were selected out of the 1,700 short films submitted for the 2018 selection.
This year's edition consisted of a preliminary four-day writing and development workshop at the Moulin d'Andé, run in collaboration with the TorinoFilmLab. This was followed by a day of meetings with potential producers and sales agents in Paris.
The event also included a special workshop at which seven French composers discussed the potential music world of the projects.
Consultants included producer Didar Domehri, rising director and screenwriter Léa Mysius and the TorinoFilmLab's Olga Lamontanara. The Match Factory head of acquisition Zsuzsi Bánkuti and Le Pacte head of acquisition Thomas Pibarot were also among the mentors attending this edition.
Aside from the two residency prizes, a €5,000 cash prize will be awarded to one of the participants during the 2019 edition of Cannes Critics' Week in May.
These also included French director Elias Belkeddar with Requiem Pour Un Fou, revolving around a jaded gangster who tries to conquer the Algiers underworld; Chilean director Felipe Gálvez with The Settlers, exploring 19th-century massacre of the native Ona people in the Tierra del Fuego islands, and Switzerland's Flurin Giger, who is developing the complex drama Fasten about a couple who decide to stop caring for their special needs son.
Other projects comprised child custody-divorce drama George by Greek filmmaker Jacqueline Lentzou; French filmmaker Camille Lugan's Fun, Fun, Fun, about the wild life of a female, Paris-based bicycle courier, and The Woodcutter Story by Finland's Mikko Myllylahti, who co-wrote The Happiest Day In The Life Of Olli Mäki, about a village beset by a series of calamities after it is blighted by the unexpected creation of open-air mine.
Growing legacy
Cannes Critics' Week launched its Next Step initiative in 2014 to help filmmakers whose short works have premiered in its short film competition make the leap into directing feature-length films.
"It grew out of conversations we were having with the directors of the short films attending Critics' Week. They would ask us for help and advice on how to move onto feature films. It was a natural move to set up an initiative. It responded to a need," says Rémi Bonhomme, general manager of Critics' Week who oversees the initiative.
He emphasises that the initiative differs from development and co-financing programmes in that the selection is made on the basis of the short work of the participants rather than on the basis of their feature project.
"Our focus is on the talent and the artist rather than the project and when we're doing the meetings we're trying to foster ongoing connections between the filmmakers and industry professionals, rather than look at one project," says Bonhomme.
Over the past five years, 38 directors from 19 different countries have participated in the programme.
Completed features supported by the initiative include Jonas Carpignano's A Ciambra, which premiered at Cannes Directors' Fortnight; Fulvio Risuleo's Rome roof-top adventure Look Up and fantasy-horror drama The Maus by Yayo Herrero (aka as Gerardo Herrero Pereda), which played at the Austin Fantastic Fest and Sitges.
Bonhomme expects another six feature projects to come to fruition in 2019, including Patrick Vollrath's American-German hijacking thriller 7500, starring Joseph Gordon-Levitt and sold internationally by FilmNation, and Indian animator Gitanjali Rao's long-awaited Bollywood-inspired romance Bombay Rose, set on the streets of Mumbai, which is expected to be ready for a 2019 Cannes or Annecy premiere.