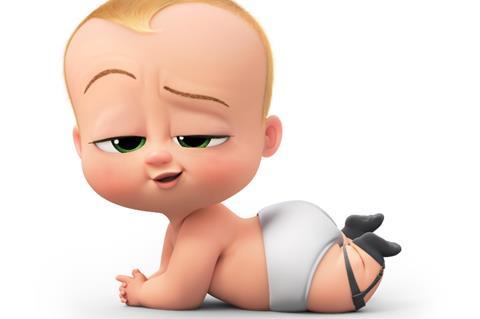 In the first major day-and-date play to boost subscribers at parent company NBCUniversal's Peacock, Universal has moved up the release of DreamWorks Animation's The Boss Baby: Family Business from September 17 to July 2 and set a hybrid theatrical and streaming launch.
The move comes after F9's $163m international launch weekend in eight markets and demonstrates the volatile nature of the post-pandemic distribution model.
While Universal delayed the release of F9 several times to preserve its theatrical exclusivity and launched it in markets where cinema-going has made a robust return, the studio remains willing to experiment.
The Boss Baby: Family Business does not get an exclusive theatrical release, even though its 2017 precursor grossed more than $527m in global cinemas. Markets across Europe are returning, although Brazil and parts of Latin America remain challenged by the pandemic.
Studio executives and NBC Universal will view The Boss Baby: Family Business as the kind of attraction that can build Peacock, which launched in April 2020 and according to latest figures has attracted 42m US subscribers.
Alec Baldwin reprises his voice role as the precocious Ted Templeton in the sequel, in which he and brother Tim (James Marsden) have grown up and grown apart. They are brought together when the family uncovers the motives of the head of a prestigious school attended by Tim's daughter.
The cast includes Eva Longoria, Amy Sedaris, Ariana Greenblatt, and Jeff Goldblum. Lisa Kudrow and Jimmy Kimmel also reprise their roles as the Templetons' parents. Returning filmmaker Tom McGrath directs, and Jeff Hermann (Kung Fu Panda 3) produces.
At time of writing it was not known whether the exhibition circuits would carry the film. Deadline has reported the studio will not split streaming revenue on the sequel with cinemas, raising the prospect of "make-good" deals reminiscent of what Warner Bros has been doing with its day-and-date HBO Max releases.
It also remains to be seen how Monday's development sits alongside Universal's broader arrangement with North American whereby it can release films on PVoD after 17 or 31 days of theatrical exclusively, depending on opening weekend box office.