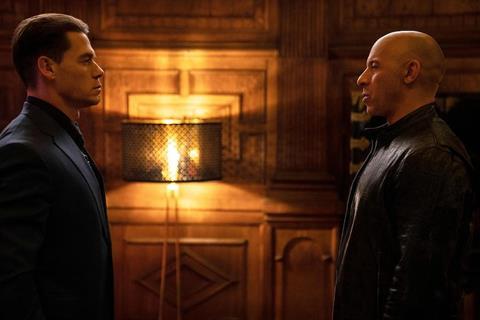 'F9' powered by $136m China debut
UPDATED: Universal's F9 has shot out of the gate in its first international wave, grossing a confirmed $1623m from eight markets to establish a record international debut in the pandemic fuelled by $136m (875m RMB) in China.
Weekend results will encourage exhibition ahead of the broader roll-out of this film and others over the summer. F9 – aka Fast & Furious 9 – pushed the action franchise past the $6bn global mark and included a $14m IMAX weekend, another pandemic high.
F9 delivered the studio's second biggest launch in China behind The Fate Of The Furious (aka Fast & Furious 8), which still holds the record for the biggest three-day debut by a Hollywood release on 1.3bn RMB.
F9 produced a $9.9m five-day opening weekend in South Korea, the first market to receive the film. Vin Diesel and friends produced the biggest opening day of the franchise and the pandemic, and the third biggest for Universal. The latest instalment in the franchise has attracted more than five million admissions – faster than any title in 2020 and 2021 to date.
The tentpole earned a pandemic-high $8.3m opening weekend in Russia, and $6.2m in the Middle East, where highlights include a $2.7m all-time record opening weekend in Saudi Arabia.
Elsewhere in the region, F9 grossed $2.6m in UAE with the biggest opening day and weekend of the pandemic, and $300,000 in Egypt. Saudi Arabia and UAE both scored IMAX opening weekend records during the pandemic.
In Hong Kong, F9 grossed $2.5m for Universal's biggest opening day of any year, the biggest opening day and single day of 2020 and 2021 to date, and the biggest opening day of the pandemic.
Justin Lin directed the tentpole – his fifth outing in the series – and the cast includes Michelle Rodriguez, Tyrese Gibson, Chris "Ludacris" Bridges, Nathalie Emmanuel, Jordana Brewster and Sung Kang, with John Cena, Helen Mirren, Kurt Russell and Charlize Theron.
F9 will continue its roll-out in 62 international markets after the first wave, with major markets including Australia on June 17, Latin America and the UK along with North America on June 25, and Spain, France and Germany throughout July.
Also in China this weekend, Love Will Tear Us Apart opened with $15.1m, and $30.7m including previews for CKF Pictures, according to Artisan Gateway. Chuxiao Qu (The Wandering Earth) and Jingyi Zhang (TV's Run For Young) star in the romantic drama from debut feature director Mo Sha.
'Peter Rabbit 2' boosted by $6.4m UK debut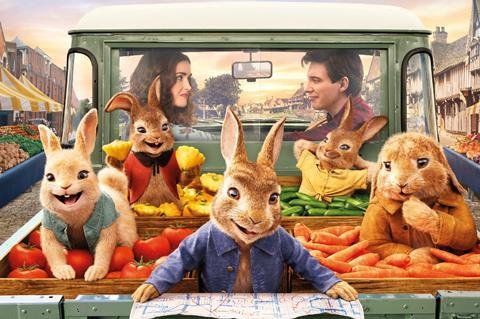 Columbia Pictures' Peter Rabbit 2: The Runaway added an estimated $8.4m for the weekend period, powered by a strong $6.4m for the UK. That UK figure encompasses seven days of takings, earned since last Monday (May 17), when cinemas reopened in England, Scotland and Wales. Sony Pictures International estimates that 10% of the UK and Ireland market remained closed at the weekend: Ireland, Northern Ireland and Glasgow.
Peter Rabbit 2 (as it is simply titled for the UK) delivered the second-biggest UK opening of the pandemic, trailing only Tenet. The sequel took an estimated 50% of the total UK box office for the weekend period, including a strong $2.5m on Saturday. Cinemas are operating with capacity restrictions. The local half-term holiday kicks off for most schools this Friday (May 28), and business is likely to remain robust. The original Peter Rabbit film debuted in UK and Ireland in March 2018 with £7.27m ($10.1m), on its way to a £41.1m ($56.8m) total.
Elsewhere, Peter Rabbit 2 delivered strong holds in Australia (-17%), Mexico (-24%) and Saudi Arabia (-27%). International total is $30.2m.
Next to open the film are China (June 11), Japan (June 25) and France (June 30), with Germany, Italy and Spain to follow in July.
The original Peter Rabbit grossed $115m in North America, $236m in international, and $351m worldwide. In the sequel, Peter (voice of James Corden) quits the garden for the big city, where misadventures ensue.
Jason Statham actioner 'Wrath Of Man' hits $71m worldwide
Guy Ritchie's Wrath Of Man opened in 13 new international territories at the weekend, but it was key holdover markets that performed strongest for the action thriller. International weekend haul is an estimated $3.9m, taking the international total to $52.2m for Miramax. Add in an estimated $18.8m in North America for United Artists Releasing, and the global total rises to $71.0m.
Notable performers were Middle East, with an estimated $1.3m in the film's second frame, and a $5.7m total. Australia and New Zealand held strongly in its fourth session for Studiocanal, with an estimated $623,000, down 26%, and a $5.2m total.
China fell hard thanks to competition from F9, grossing an estimated $575,000, which compares with $8.6m from the previous (and opening) weekend. Total after 14 days of official release is $23m.
Russia/CIS added an estimated $544,000 in the film's fifth session, taking the total for distributor Volga to a robust $12.9m.
Mexico delivered the weekend's top opening for Wrath Of Man, with an estimated $455,000, and first place at the box office, for MGM/Imagem.
Wrath Of Man is based on 2004 French film Cash Truck and is produced by MGM and Miramax. Statham stars as a man who is hired by a Los Angeles cash truck company to transport consignments of cash around the city – but secretly he aims to identify and entrap the people who earlier killed his son in a cash truck robbery.
Next major markets to open the film are Spain (May 28), South Korea (June 9) and France (June 16).
Ritchie's previous film The Gentlemen grossed $36.5m in North America, $78.7m in international markets, and $115.2m worldwide.
'Spiral' adds $2.7m for $6.7m international total
Lionsgate and Twisted Pictures' Spiral: From The Book Of Saw took an estimated $2.67m from 21 international territories in its second session – which compares with $3.3m from 16 markets for the debut frame. International total to date is $6.72m, and including North America the global tally rises to $22.5m.
International star performer was the UK, with an estimated $1.15m for the seven-day period (Monday-to-Sunday). Spain opened with an estimated $280,000.
Jigsaw – the previous entry in the Saw franchise – grossed $38.1m in North America and $64.9m in international markets for a combined $103m.
Darren Lynn Bousman (Saw II, III and IV) directs Spiral, which introduces new characters to the serial-killer story, and stars Chris Rock, Samuel L Jackson, Max Minghella and Marisol Nichols.
This weekend sees Spiral arrive in Netherlands (May 27) and Sweden (May 28), with Italy and Finland to follow in June, France and Belgium in July, and Germany and Japan later in the year.
'Those Who Wish Me Dead' strongest in Australia, UK
UPDATED: New Line/Warner Bros' Those Who Wish Me Dead expanded into five new markets at the weekend, taking the territory total to 38, and generating a confirmed $1.9m for international. Totals to date are $7.5m in international, $5.6m in North America and $13.1m worldwide.
Strongest new territory for the forest-fire thriller was the UK, with $427,000 for the seven days since May 17. Next was Indonesia with $220,000.
However, both were eclipsed by Australia, where Those Who Wish Me Dead grossed $541,000 in its second session (down 45%), taking the total there to $1.8m.
Angelina Jolie stars as a fire warden and survival expert who shelters a 12-year-old boy (Finn Little) who witnessed two men (Nicholas Hoult, Aidan Gillen) kill his father. Those Who Wish Me Dead is directed and co-written by Taylor Sheridan, and based on the novel by Michael Koryta.