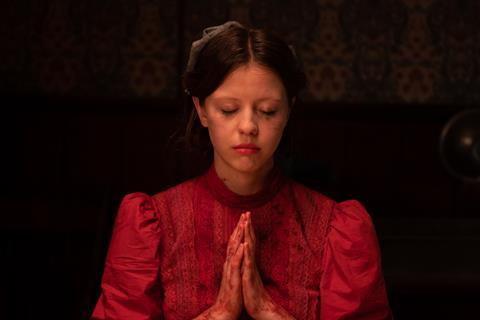 Universal Pictures Content Group has snapped up all international rights to Ti West's Pearl from A24.
The feature is the second in the horror franchise that kicked off with X, and will be followed by the recently announced third film, MaXXXine.
Pearl had its world premiere at Venice and also played at Toronto and Sitges.
Pearl sees Mia Goth, David Corenswet, Matthew Sunderland, Tandi Wright and Emma Jenkins-Purro star in the origin story of the murderous titular character, played by Goth. Trapped on her family's isolated farm, Pearl tends to her ailing father under the bitter and overbearing watch of her devout mother, while Pearl lusts after the glamorous life she's seen in the movies.
Filmmaker West, who co-wrote the film with Goth, also produces the title alongside A24, Jacob Jaffke, Harrison Kreiss and Kevin Turen.
X, the first film in West's horror franchise, premiered at SXSW in March before being released theatrically in the US by A24, which also released Pearl in the US in mid-September following the Venice premiere.
The US filmmaker's further credits include horror titles In A Valley Of Violence, The House Of The Devil and The Innkeepers.
A24, West, Goth, Jaffke, Kreiss and Turen will all return for the upcoming MaXXXine.