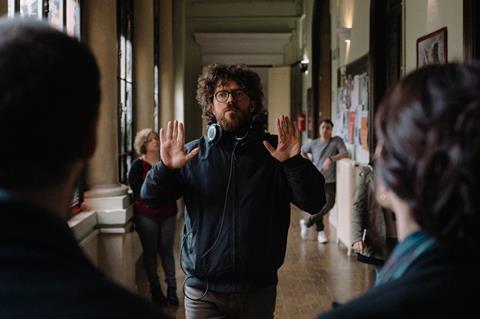 Paris-based Urban Distribution International has boarded sales on Italian director Duccio Chiarini's second feature The Guest, as the shoot begins in Rome until mid-December.
The bittersweet comedy-drama stars Daniele Parisi as 38-year-old university researcher Guido, who is dumped by his long-term girlfriend (Silvia D'Amico) after a pregnancy scare throws their relationship into question.
Leaving the house they have shared for years, Guido ends up doing the rounds of friends and family, sleeping on their couches.
It marks the start of a strange journey as he witnesses other people's issues from a new perspective, that of the guest.
Parisi and D'Amico previously co-starred together in Alessandro Aronadio's tragi-comedy Ears (Orecchie), which premiered in the Biennale College section of the Venice Film Festival in 2016.
The Guest marks Chiarini's second feature after his well-received debut work Short Skin, about a teenager whose sexual awakening is complicated by the fact he is suffering from phimosis, or a tight foreskin.
Like that film, The Guest will also be a tale of fragile masculinity but this time focused on a man approaching his forties, with a suspicion of strong women and looking for his place in a modern-day society in which relationship stability is no longer the norm.
The film is a co-production between Italy, Switzerland and France, produced by Tommaso Arrighi's Mood Film with Rai Cinema, in co-production with Michela Pini's Cinédokké and RSI Radiotelevision Switzerland for Switzerland, and Vincent Wang and Fred Bellaïche's House on Fire for France, and in association with Relief.
It has received the support of Lazio Cinema International, MIBACT Direzione Generale Cinema, Eurimages, UFC Ufficio Federale della Cultura, MIBACT-CNC, the bilateral fund for the development of cinematic Italian/French co-productions, and the TorinoFilmLab.
The film's screenplay was a finalist in Italy's Premio Solinas and the project has been developed during the Cinefondation Le Residence and the TorinoFilmLab Frame Work. It was also selected for the Berlinale Co-Production Market, the Locarno Alliance for Development and for the Venice Gap Financing Market.