Plus: Turner to launch SVOD service FilmStruck; and more…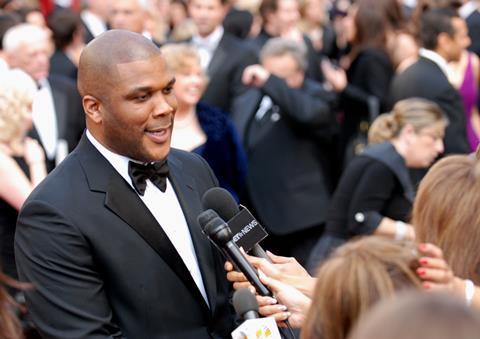 Tyler Perry's 34th Street Films has hired Black List writers Jim Kehoe and Brian Kehoe to direct their R-rated action-comedy script Top Of The Food Chain.
The comedy is described as City Slickers meets The Revenant, replete with a huge, marauding bear.
Kay Cannon is preparing to direct The Kehoes's Cherries with Seth Rogen and Evan Goldberg producing for Good Universe alongside DMG Entertainment.
The Los Cabos Film Festival and Cannes Marché will present four Mexican films in post under the auspices of Los Cabos Goes To Cannes on May 15. The films are: Galopando Cine's Carrion (Carroña) by Sebastián Hiriart; portmanteau The Bedroom (La Habitación) from Machete Films; EnAguas Cine's The Darkest Days Of Us (Los Días Más Oscuros De Nosotras) by Astrid Rondero; and Spécola's William, The New Judo Master (William, El Nuevo Maestro Del Judo) by Ricardo Silva.
Starz Digital has acquired all US rights from UTA Independent to Flock Of Dudes and will release theatrically and on VOD in the autumn. Bob Castrone's directorial debut stars Chris D'Elia and Hannah Simone
Hot Docs in Toronto has launched #OnlyAtHotDocs, a series of 45-second 'micro docs' shot on iPhone by Hot Docs alumni film-makers. The films will screen in rotation during pre-show presentations at the festival, which runs from April 28-May 8.
Turner plans to launch this autumn its first direct-to-consumer SVOD service, FilmStruck. Turner Classic Movies developed and will manage the platform, which will become the exclusive streaming home for the Criterion Collection. The service will carry titles from Janus Films, Kino and Zeitgeist and the roster includes A Room With A View, Blood Simple, My Life As A Dog, Mad Max, Breaker Morant and The Player.
The American Film Institute will honour film-maker Lesli Linka Glatter with the 2016 Franklin J. Schaffner Alumni Medal on June 9 in Los Angeles. The award recognises "the extraordinary creative talents of AFI alumni who embody the qualities of filmmaker Franklin J. Schaffner: talent, taste, dedication and commitment to quality storytelling in film and television." Glatter has directed episodes of Homeland, The Leftovers and Masters Of Sex, among others.