Plus… Academy announces shortlist of 10 documentary shorts and The Hornet's Nest collaborators launch distribution alliance.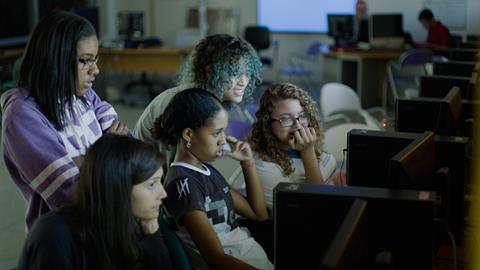 FilmBuff has licensed worldwide rights to Lesley Chilcott's Codegirl (pictured), which follows Technovation, a competition in which high school girls from around the world have three months to design an app to solve a problem in their community.
The film will open theatrically in the US on November 1 and become available on all major VOD platforms from November 6.
The distributor has also picked up US rights to TransFatty Lives, Patrick O'Brien's ALS documentary that won this year's Tribeca audience award.

The film will open theatrically and on VOD on November 20.


Anderson Media Corporation CEO Charlie Anderson and executive producer Mike Camello have formed producer-distributor Charlie Mike Productions.

The parties have signed a deal to fund the in-production military titles Citizen Soldier and Danger Close from The Hornet's Nest producer Strong Eagle Media.

Alchemy, which owns the distribution assets of Anderson Media Corporation's ANconnect, will distribute both titles. ANconnect previously distributed The Hornet's Nest.


The Academy has announced the 10 documentary shorts to make it on to the shortlist. The five nominees will be announced on January 14, 2016. The shortlist comprises:

Body Team 12
Chau, Beyond The Lines
Claude Lanzmann: Spectres Of The Shoah
50 Feet From Syria
A Girl In The River: The Price Of Forgiveness
Last Day Of Freedom
Minerita
My Enemy, My Brother
Starting Point.