Plus: Freestyle sets Mother Teresa drama The Letters release date; Kathy Bates joins Bad Santa 2; Momentum picks up word rights to Milton's Secret; STX Entertainment wraps The Space Between Us… and more.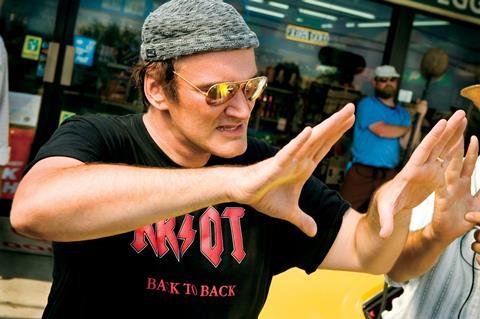 The 18th Costume Designers Guild Awards on February 23, 2016 will honour Quentin Tarantino with the Distinguished Collaborator Award and veteran costume designer Ellen Mirojnick with the Career Achievement Award
Mirojnick's credits include Chaplin, Cocktail, Wall Street, Fatal Attraction, Basic Instinct and Behind The Candelabra
Freestyle Releasing will distribute Mother Teresa drama The Letters starring Juliet Stevenson on December 4 in more than 1,000 theatres. Max von Sydow and Rutger Hauer also star and William Riead directed the life story of the late nun.


Kathy Bates has joined Bad Santa 2 for Miramax and Broad Green and will play Sonny Soke, the "foulmouthed, tough-as-nails mom" to Billy Bob Thornton's lead. Miramax and Broad Green Pictures co-finance and co-produce the sequel, while Broad Green will handle US theatrical distribution during the 2016 holiday season. Principal photography is scheduled to start in January in Montréal.


Momentum Pictures has acquired worldwide rights from Sean Buckley on behalf of Buck Productions to Buck and Hulo Films' inspirational drama Milton's Secret. Donald Sutherland and Michelle Rodriguez. Barnet Bain directs from his screenplay. The project shot in Canada and is in post.


Sarah Gadon and Sophie Cadieux have been appointed ambassadors for the third annual The Shortest Day free showcase of Canadian shorts from December 18-21 across the country. Click here for further details.


STX Entertainment has wrapped principal photography on interplanetary adventure The Space Between Us starring Gary Oldman, Asa Butterfield, Carla Gugino, Britt Robertson, BD Wong and Janet Montgomery. Peter Chelsom directs from Allan Loeb's screenplay and Richard Lewis produces.


The San Francisco Film Society (SFFS), in partnership with the Kenneth Rainin Foundation (KRF) announced on Thursday the projects that will receive a total of $270,000 in funding in the latest round of SFFS / KRF Filmmaking Grants. Seven filmmaking teams were granted funding. Click here for more details.


Visual effects and creative studio Zero VFZ has gone bi-coastal and opened a 5,000-square-foot office in Venice Beach, California. Company credits include Southpaw and Black Mass as well as commercials.