Plus… Samuel Goldwyn Writing Awards winners announced and San Francisco Film Festival secures two-year Sloan grant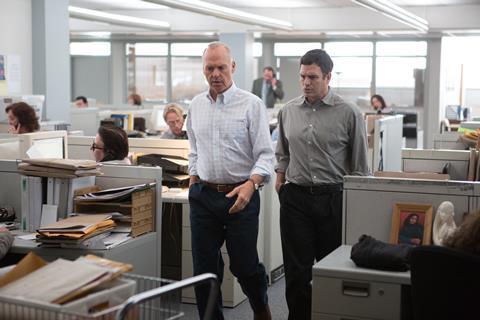 Spotlight has earned the Chicago's 51st Chicago International Film Festival's audience award for best narrative English-language feature while France's foreign-language Oscar submission Mustang took the foreign-language prize. Where To Invade Next earned documentary honours and Oh Lucy! won in the short film category.
Emily Bensinger has won first prize for her script Harridans at the 60th Annual Samuel Goldwyn Writing Awards. Noel Scott Chalmers for Stinker and Chloe Keenan for What I Did This Summer By Sophie Crumb tied for second and Melissa Finnell came third for Sensitivity Training. Sean Dennison earned an honourable mention on Monday night's ceremony at UCLA in Los Angeles for Panacea.
The San Francisco Film Society has secured a two-year $417,500 grant from the Alfred P Sloan Foundation to initiate programmes that "nurture, cultivate and champion films that explore scientific or technological themes and characters."
Top brass at the first Asian World Film Festival awarded on Monday night the best picture prize to Moira (Republic of Georgia), the jury award to Memories On Stone (Iraq), best actor to He Bing from 12 Citizens (China), best actress to Malalai Zikria from Utopia (Afghanistan) and Audience Choice to Void (Lebanon). Click here for full details.
Asia Society Southern California has announced a partnership between its US-China Film Summit and the Shanghai International Film Festival. The parties will promote, attend and participate in each other's events starting with a small delegation of Shanghai officials in attendance at the Summit in Los Angeles on November 5.