Chuck Steel: Night Of The Trampires, the feature animation that world premieres today (June 12) at European animation festival Annecy, has had its North American sales rights boarded by UTA Independent Film Group.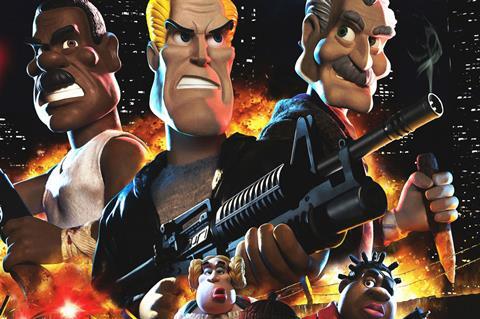 International rights for the action-horror-comedy are represented by production house Animortal Studio, the founders of which are in Annecy this week. The project marks the first feature to be solely produced from the Wales-based animation house, which was opened in 2014 and has previously worked on the sets for Wes Anderson's Isle Of Dogs.
Animortal co-founder Mike Mort directed, produced and wrote Chuck Steel and also voiced several of the characters, with Jennifer Saunders, Paul Whitehouse and Samantha Coughlan among the voice cast.
Set in 1986, the story follows Chuck Steel, a renegade lone wolf cop who doesn't play by the rules. He finds his work cut out for him when the governor of LA decides to reduce the licensing hours for clubs and bars, triggering a sudden, inexplicable spate of high profile assaults in the city.
A crew of 150 worked on the project and 425 puppets were created for the film. It was shot in stop-motion at 24 frames per second using digital stills cameras.
Jon Levy, agent at UTA, commented: "Chuck Steel is a visually stunning stop-motion film that reflects UTA's commitment to supporting features across every genre. We look forward to sharing Animortal's compelling animation with audiences at Annecy this week."
The Animortal team, which alongside Mort also includes producer Randhir Singh Heer and the studio's CEO and co-founder Rupert Lywood, added: "We are very excited to partner with UTA Independent Film Group on the sale of the film in the US. The group has packaged and represented some of the industry's most critically acclaimed features and we are thrilled to be working with them on this project."