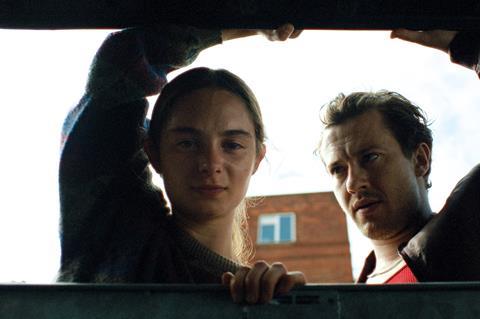 Venice Critics' Week has selected seven features for its main competition, including two from the UK - Hoard by Luna Carmoon and Sky Peals by Moin Hussain.
Scroll down for full line-up
Hoard is the debut feature from Carmoon, a Screen Star of Tomorrow 2022,. It is produced by Loran Dunn (Screen Star of Tomorrow 2017), Helen Simmons (Screen Star of Tomorrow 2018) with Andy Starke, and stars Hayley Squires, Joseph Quinn (Screen Star of Tomorrow 2018) and Saura Lightfoot Leon.
Hoard is backed by the BFI and BBC Film, which also supported development, and follows a woman's life from her loving childhood with her mother, through to the grief of her young adulthood.
Carmoon's short films Nosebleed (2018) and Shagbands (2020) both premiered at the BFI London Film Festival.
Sky Peals (previously known as Birchanger Green) by Hussain, is also a debut by a former Screen Star of Tomorrow 2018. The sci-fi film is abouta a man who works night shifts at a motorway service station, living a small and lonely life with little human contact or connection. After hearing that his estranged father has died, he finds himself piecing together a complicated image of a man that he never really knew.
Sky Peals is produced by Michelle Stein (a Screen Star of Tomorrow 2009) of Escape Films and was developed and co-financed by Film4, the BFI and Screen Yorkshire. It stars Faraz Ayu, Natalie Gavin and Claire Rushbrook. Bankside Film handles international sales.
Hussain's shorts Real Gods Require Blood and Naptha played in Cannes Critics' Week in 2017 and 2019.
Venice Critics' Week opens with Andres Peyrot's God Is A Woman, playing out of competition. Sold by Pyramide International, it is the story of French Oscar-winning director Pierre-Dominique Gaisseau who travelled to Panama in 1975 to film the Kuna community, where women are sacred. The project eventually ran out of funds and a bank confiscated the reels. Fifty years later, the Kunas are still waiting to discover "their" film – and one day a hidden copy is found in Paris.
The closing film is Sebastien Vaniçek's Vermin. Facing an invasion of venomous spiders, residents of a suburb building will have to find their way out to survive. The film is sold by Charades and WTFilms.
The 38th edition of Venice Critics' Week run from August 30-September 9.
In competition
About Last Year (Italy)
Dirs: Dunja Lavecchia, Beatrice Surano, Morena Terranova
Hoard (UK)
Dir: Luna Carmoon
Life Is Not a Competition, But I'm Winning (Ger)
Dir: Julia Fuhr Mann
Love Is a Gun (HK, Tai)
Dir: Lee Hong-Chi
Malqueridas (Chile-Ger)
Dir: Tana Gilbert
Sky Peals (UK)
Dir: Moin Hussain
The Vourdalak (Fr)
Dir: Adrien Beau
Opening film
God Is a Woman (Fr-Switz-Panama)
Dir: Andres Peyrot
Closing film
Vermin (Fr-Mor)
Dir: Sebastien Vaniçek
Special Screening
Passione Critica (It)
Dir: Simone Isola, Franco Montini, Patrizia Pistagnesi