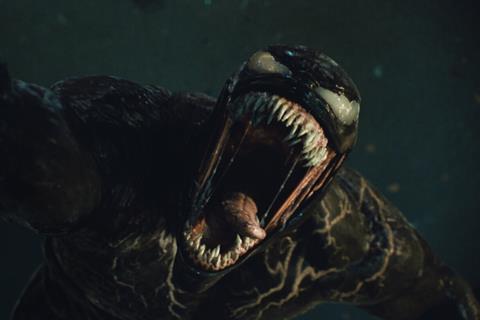 Worldwide Box Office October 15-17 2021
| Rank | Film (distributor) | 3-day (World) | Cume (World) | 3-day (Int'l) | Cume (Int'l) | Territories |
| --- | --- | --- | --- | --- | --- | --- |
| 1. | Venom: Let There Be Carnage (Sony) | $78.8m | $283.6m | $62.3m | $115.6m | 45 |
| 2. | No Time To Die (Uni) | $78.2m | $447.8m | $53.9m | $348.3m | 73 |
| 3. | The Battle At Lake Changjin (various) | $71.8m | $755.8m | $71.8 | $755.8 | 1 |
| 4. | Halloween Kills (Uni) | $55.8m | $55.8m | $5.5m | $5.5m | 21 |
| 5. | The Addams Family 2 (Uni) | $16.9m | $58.5m | $9.7m | $16.2m | 22 |
Credit: Comscore, all figures estimates
Territory openings boost 'Venom: Let There Be Carnage'
UPDATED: Sony's Venom: Let There Be Carnage expanded at the weekend from Russia/CIS and 12 Latin American countries into 31 fresh markets, taking the territory count to 44. Weekend box office was a confirmed $62.8m for international, taking the total to $116.1m. In North America, the weekend was $16.5m, and the total is $168.1m.
Although hardly a critical favourite, the original Venom film proved a robust box office hit, grossing $213.5m in North America, $642.6m for international, and $856.1m worldwide.
Sequels can often open bigger, and burn through their audience quicker. Even so, Sony will be pleased by the weekend outcome on Let There Be Carnage. UK/Ireland began with a confirmed $8.5m, roughly 7% ahead of the Venom launch and the second-best three day opening of the pandemic era. Spain, with $3.8m, opened around 8% ahead of Venom. Italy was just behind with $3.6m. In both Italy and Spain, these are the biggest opening numbers of the pandemic era.
The Middle East delivered an estimated $6.9m, led by Saudi Arabia ($2.3m). Eastern Europe yielded $7.6m, led by Ukraine's third-biggest opening of all time ($2.7m). Asia provided $17.6m from just six markets, led by South Korea ($9.4m, the second-best number for a US studio title in the pandemic era).
In holdover markets, Let There Be Carnage fell 42%. Cumulative totals are now $28.5m in Russia/CIS, $16.7m in Mexico and $7.2m in Brazil.
The film has yet to open in a number of key territories, including France (October 20), Germany (October 21), Australia (November 25) and Japan (December 3). A release date for China, where the original Venomgrossed $269.2m, has not been set.
Venom: Let There Be Carnage is directed by Andy Serkis from a screenplay by Kelly Marcel (Saving Mr Banks, Venom) and a story by Marcel and star Tom Hardy.
'No Time To Die' is third biggest US studio title of pandemic era
UPDATED: With an estimated $54m weekend total for international markets, and $24m in North America, No Time To Die's $78.2m haul was right behind Venom: Let There Be Carnage's $78.8m.
The Universal and MGM release has now reached $348.7m for international, $98.8m in North America and $447.5m worldwide. That puts No Time To Die in third place among US studio titles released in the pandemic era, behind Fast & Furious 9 ($717m) and Godzilla Vs Kong ($468m). The Bond film will soon overtake the latter number.
A number of strong new releases in UK/Ireland saw No Time To Die drop an estimated 46% at the weekend, but box office was still a robust $11.5m for the third session, taking the total after 18 days to $93.2m.
Germany, falling 22%, took an estimated $9.1m, taking the total there to $46.1m. In cumulative totals, these two markets are far ahead of next best France ($17.3m) and Japan ($16.2m). China (October 29) and Australia (November 11) are yet to release.
With $447.5m, No Time To Die has now reached 51% of Spectre's lifetime global total of $881m, and 40% of Skyfall's $1.11bn tally.
'Halloween Kills' powered by North America
Universal's Halloween Kills landed in fourth place in the global ranking – with an estimated $58.9m – one place below monster Chinese hit The Battle At Lake Changjin. (See China box office report for more on the latter.)
But the Halloween Kills global number is overwhelmingly thanks to a strong performance in North America, where David Gordon Green's horror sequel began with an estimated $50.4m.
For international, Halloween Kills began with a more modest $5.5m from 20 territories, led by UK/Ireland with an estimated $2.3m, the third-best horror opening of the pandemic era. Mexico opened with $1.3m.
France, Russia/CIS, Germany, Italy and Spain all open the film this week, with South Korea, Australia and Spain all opening the week after.
Green's 2018 franchise reboot Halloween grossed $159.3m in North America, $96.3m for international and $255.6m worldwide.
Also for Universal, animated sequel The Addams Family 2 expanded from 12 early markets to 21 territories, grossing an estimated $9.7m, and taking the international total to $16.2m. In North America, the film has reached $42.3m.
The film was boosted by openings in Russia/CIS ($3.9m), France ($1.1m) and Mexico ($1.1m). UK/Ireland was the top holdover market with an estimated $1.8m, dropping 34% from the opening session to reach $5.2m after 10 days.
Key markets Brazil, South Korea, Germany, Australia and Japan are all to come.
'The Last Duel' disappoints with $9m global debut
Ridley Scott's The Last Duel, with a production budget reported at $100m, began with a disappointing $4.8m estimate in North America. International was no better – the film grossed an estimated $4.2m in 37 territories.
France, where the film is set, led the way with an estimated $900,000 – ahead of UK/Ireland with $500,000.
Key markets yet to open the medieval drama are Australia and South Korea (both opening this coming weekend) plus Spain, Russia/CIS and China.