The story of the real-life female warriors who protected an African kingdom is now a major box-office hit. Director Gina Prince‑Bythewood tells Jeremy Kay why The Woman King is everything she had always wanted to do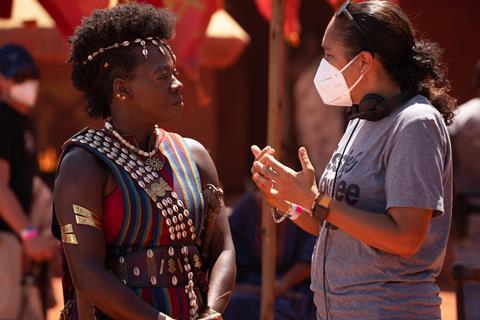 The fight to bring The Woman King to the big screen started long before Gina Prince-Bythewood came on board, yet it chimes with the director's career-long struggle to champion women of colour in her work.
Star and producer Viola Davis and fellow producer Cathy Schulman got the ball rolling seven years ago on what would become Tri­Star Pictures' action epic. Schulman had piqued Davis's interest after she shared a French book given to her by actress Maria Bello that recounted the little-known history of the Agojie female warriors — credited as the inspiration behind the fictitious Dora Milaje in Black Panther — who defended the 19th-century Kingdom of Dahomey.
By that time, circa 2015, Prince-Bythewood knew little if anything about the project. She had directed three features — her 2000 feature debut Love & Basketball (winner of the best first screenplay Independent Spirit award), The Secret Life Of Bees (2008) and Beyond The Lights (2014) — and was forging a career inspired in part by the trailer to Spike Lee's 1986 breakout She's Gotta Have It, which lit a fire in her belly about wanting to see people like herself and other women of colour reflected on screen.
Penned by Dana Stevens (Fatherhood, 2021) from a story by Bello (who also has a producer credit) and Stevens, the screenplay for The Woman King reached Prince-Bythewood while she was editing 2020's The Old Guard — a tentpole-level action thriller that Skydance Media hired her to direct after hearing about her work on Silver & Black, a Spider-Man spin-off for Sony/Marvel that had fallen apart after 18 months of prep.
The filmmaker was enthralled by the story of General Nanisca (Davis) and feisty young recruit Nawi (Thuso Mbedu) as the Agojie find themselves at a critical juncture in regional politics, pitted against warring neighbours and preparing to fight slave traders.
"I just loved the script, I loved these women, I loved the sisterhood, I loved the set-pieces, the emotion," she recalls over breakfast in Beverly Hills. "It was everything I had wanted to do."
Prince-Bythewood met Davis at the latter's JuVee Productions, although she left convinced she had wasted her chance. "As a female director, you can never show weakness and as I talked about my guttural connection [to the material] I started crying. I thought I'd blown it." Davis thought otherwise and she got the job.
The suits at TriStar wanted stars, and John Boyega signed on to play King Ghezo alongside young talents Lashana Lynch as Agojie lieutenant Izogie and Sheila Atim as Nanisca's right hand in the army, Amenza. Prince-Bythewood fought for Mbedu, whom she had met in auditions; she recalls being blown away by the young South African actress who would earn a 2022 Independent Spirit award for her role in Barry Jenkins' TV miniseries The Underground Railroad. "She's a generational talent. I needed people who could go toe to toe with Viola Davis."
Boyega was used to being a leading man but was happy to champion the project in a significant secondary role as a ruler who oversaw a society where men and women enjoyed parity in political, military and spiritual leadership roles. "He wanted to use his power to help us get this made," notes Prince-Bythewood. "He was a huge cheerleader."
The fight sequences would be on a scale the director had never done before, and she worked with trusted regular collaborators, storyboarding and choreographing everything. Cinematographer Polly Morgan, production designer Akin McKenzie, editor Terilyn A Shropshire and stunt co-ordinator Daniel Hernandez — the last two worked with her on The Old Guard — were just a few of the department heads who brought the Kingdom of Dahomey to life.
Combat training started in mid-2021 in the run-up to production in South Africa. The actors trained twice a day, six days a week for months. They learned martial arts and familiarised themselves with weaponry, specifically the machete, which was the warriors' instrument of choice.
Prince-Bythewood worked closely with Hernandez, whose credits include John Wick and Avengers: Endgame. "We never started with, 'What's a cool move?'" she says. "It was about why do the characters fight that way and what's the story of this particular fight… There are a lot of fight co-ordinators who are sexist and you hear horror stories. Danny isn't like that."
The director continues: "I knew this was the best way for them to build that sisterhood and camaraderie. I needed that swagger. It can be taught, and with women it's something that as they grow up gets smashed down; you're told to be quieter in rooms, in relationships, in the classroom."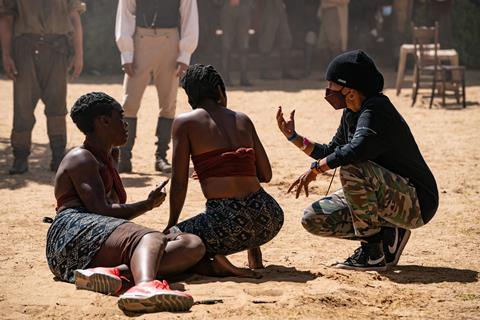 Rediscovering the past
The history of the Kingdom of Dahomey, which was located in modern-day Benin in West Africa, has been largely erased. To accurately depict the culture, the production worked with Beninese historian Leonard Wantchekon. Research involved trips to the Fowler Museum at Prince-Bythewood's alma mater UCLA in Los Angeles, where they pored over journals from 19th-century missionaries and the like.
"We learned the Agojie women were trained not to feel pain. They would soak their nails in brine and sharpen them to points. They used palm oil on their bodies so their adversaries couldn't grip them," recalls the director, who received the Tribute Award at November's Gotham Awards.
Principal photography started in KwaZulu-Natal province in late 2021 with the opening village battle. They were in the jungle, the rainy season was rolling in, internet was spotty and it was tough to transport equipment to set. "This was the hardest shoot of my career," says Prince-Bythewood.
The production had avoided the ravages of Covid-19 until it relocated to Cape Town several weeks later. One by one, cast and crew succumbed to the omicron variant and they had to shut down. "We only had three weeks of film and didn't know if the studio would cut their losses," the director says. "That was really scary."
Prince-Bythewood and Davis remained in Cape Town and, aided by an efficient South African response to the pandemic, production resumed after a short hiatus. Covid-19 had diminished the ranks: background actors were halved and now stunt performers had to operate in a bubble per the protocols. Yet it proved to be a happy accident. While shooting another battle sequence, they found a way to mask their reduced numbers. "Having smoke, we wouldn't need 10 layers [of actors] behind our main people, we only needed three. That was a lifesaver," she recalls.
Throughout production, Davis led by example. The Oscar winner, then 56, trained as hard as anybody. "She aspires to be great but doesn't carry herself like that," says the director. "Thuso had never done a movie and Viola was bringing her into the process. She always felt like the stronger the ensemble, the stronger the film."
The Woman King premiered in September at Toronto International Film Festival and opened a week later at number one in North America, going on to gross $92m worldwide at press time.
Things are starting to come full circle for Prince-Bythewood, who swears she is trying to take a little break from directing. She is executive producer on the upcoming National Geographic series Genius: MLK/X and brought on "young, beautiful, Black female director" Channing Godfrey Peoples (Miss Juneteenth) to direct the pilot.
Reflecting on the work of her heads of department and the entire production on The Woman King, she is taken back to the young Prince-Bythewood who watched that Spike Lee trailer. "It's a beautiful thing to look at this crew, which was all women and people of colour. You're so used to being the only one there and making yourself quiet. Now you're looking around the table at the production meeting and seeing yourself reflected everywhere. Suddenly you realise how much your voice matters."