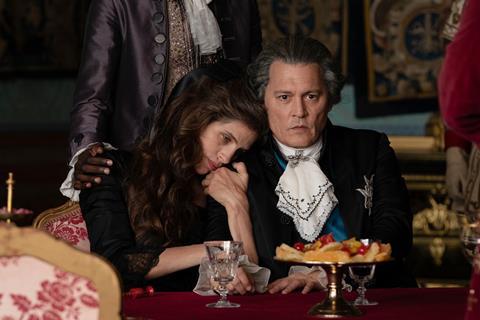 Vertical has acquired North American rights to recent Cannes opener Jeanne Du Barry starring director Maïwenn and Johnny Depp.
"With Johnny's huge appeal, we feel moviegoers that may not typically seek out foreign films just might turn out for this one," said Vertical partner Peter Jarowey, who along with SVP of acquisitions Tony Piantedosi negotiated the deal with CAA Media Finance and Goodfellas on behalf of the filmmakers.
Jeanne Du Barry stars Maïwenn as Jeanne Vaubernier, a working class woman who rises through the court of King Louis XV in 18th Century France to escape her impoverished life and ends up becoming the king's mistress.
Benjamin Lavernhe, Pierre Richard, Melvil Poupaud, and Pascal Greggory round out the key cast. The film opened in France via on May 17 on $2.6m and currently stands at more than $4m through Le Pacte.
Teddy Lussi-Modeste and Nicolas Livecchi co-wrote the screenplay and Jeanne Du Barry's producers are Pascal Caucheteux and Grégoire Sorlat.
The production companies are Why Not Productions, France 2 Cinéma, France 3 Cinéma, La Petite Reine, Impala Productions, Les Films de Batna, In.2 Film, and Les Films du Fleuve.