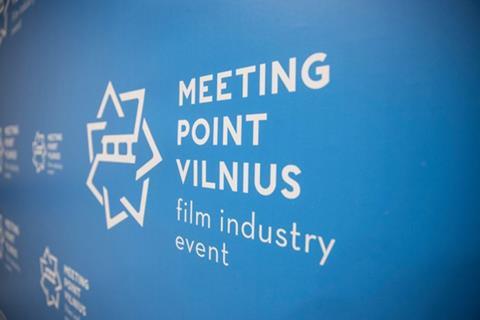 Meeting Point - Vilnius, the industry strand of Vilnius International Film Festival, has expanded its selection for its 2021 online event, confirming 32 projects today.
The projects are selected across two strands: 24 are in the Coming Soon pitching selection, consisting of 12 fiction features and 12 documentaries; with a further four of each in the Industry Screenings.
Some 23 countries are represented among the titles, including Maysoon Pachachi's fiction feature Our River… Our Sky, a co-production between the UK, France, Germany, Qatar, Kuwait and the UAE, in the main Coming Soon strand.
Further sections of the industry programme include Lithuanian Room, presenting non-debut Lithuanian films to sales agents and festival programmers; and Talents Nest, a development strand for 15 film professionals from Baltic, former Soviet Union and Caucasian countries.
The event will also include a Talks On Tomorrow series of panels on topics including marketing, rep distribution and editing; and an Innovation Day Lab for Baltic distributors and exhibitors.
Awards at this year's edition including the €5,000 Lithuanian Film Centre award; and €1,000 award for best Lithuanian pitch.
Speaking of the decision to expand the selection, Meeting Point – Vilnius head of industry Alessandra Pastore said, "It's a win-win situation: exposure for producers and projects, but also opportunities for decision makers to discover more films with more screenings. Once our lives return to normal, we will use what we have learned to innovate our film industry."
Meeting Point – Vilnius 2021 selection
Coming Soon
Fiction
9th Step (Lith)
Dir: Irma Pužauskaitė
Prod: Lukas Trimonis
A Hero Of Our Time (Tur)
Dir/prod: Mirac Atabey
CARBON (Mol-Rom)
Dir: Ion Bors
Prods: Ion Bors, Sergiu Cumatrenco, Sergiu Pascaru, Marin Cumatrenco
I Am Fine, Thanks (Lith)
Dir: Ernestas Jankauskas
Prods: Gabija Siurbytė, Greta Akcijonaitė
Lapalissade (Ukr)
Dir. Philip Sotnychenko
Prods. Sashko Chubko, Valeria Sochyvets
Our River… Our Sky (UK-Fr-Ger-Qat-Kuw-UAE)
Dir: Maysoon Pachachi
Prod: Talal Al-Muhanna
Pilgrims (Lith)
Dir: Laurynas Bareiša
Prod: Klementina Remeikaitė
Runner (Lith-Czech)
Dir: Andrius Blaževičius
Prod: Marija Razgutė
Songs About Love (Pol)
Dir: Tomasz Habowski
Prod: Marta Szarzyńska
The Day I Found A Girl In The Trash (Pol)
Dir: Michał Krzywicki
Prod: Natalia Bednarska
Troubled Minds (Lat)
Dirs: Raitis Abele, Lauris Abele
Prods: Kristele Pudane, Roberts Vinovskis, Raitis Abele
UPURGA (Lat)
Dir: Ugis Olte
ProdL Uldis Cekulis
Documentaries
Aurora's Sunrise (Arm-Ger-Lith)
Dir: Inna Sahakyan
Prod: Vardan Hovhannisyan
Burial (Lith-Nor)
Dir: Emilija Skarnulytė
Prod: Dagnė Vildžiūnaitė
Children Of Change (Bel)
Dir/prod: Helene Jasinskaja
Good Life (Lith-Swe-Fin)
Dirs/prods: Viktorija Šiaulytė, Marta Dauliūtė
Investigative Journalists (Lith)
Dir: Živilė Mičiulytė
Prod: Stasys Baltakis
Life After Death (Lith)
Dir: Nerijus Milerius
ProdL Stasys Baltakis
Lovebinge (Lith)
Dir: Simona Žemaitytė
Prod: Akvilė Žilionytė
Pink Is The Camouflage Of Space (Swe)
Dir: Charlotte Strömberg Eliasson
Prod: Elin Bennett, Hanna Hannerz-Simå
Roma (Ukr-Den-Neth)
Dir: Olha Zhurba
Prod: Darya Bassel
The Right To Be Forgotten (Rom-Bel)
Dir: Adina Sadeanu
Prod: Ana Maria Pirvan
The Wire (Bel-Lith-Nor-Cro)
Dir: Tiha Gudač
Prods: Frederik Nicolai, Lukas Trimonis
Yoyogi Haiku (Est-Jap)
Dir: Max Golomidov
Prods: Volia Chajkouskaya, Ivo Felt
Industry Screenings
Fiction
Cinephilia (Lith)
Dir: Algimantas Puipa
Prod: Uljana Kim
Lotto (Geo-Lith)
Dir: Zaza Khalvashi
Prod: Sulkhan Turmanidze
Prologos (Lith-Gre)
Dir/pro: Mantas Kvedaravičius
Where The Road Leads (Lat)
Dir/prod: Matiss Kaza
Documentaries
Back From New York (Lith)
Dir: Ramunė Rakauskaitė
Prods: Arūnas Matelis, Ramunė Rakauskaitė
Mirror (Ind-Lith-S Kor)
Dirs: Siddhant Sarin, Debankon Solanky
Prod: Siddhant Sarin
Kernagis (Lith)
Dir/prod: Andrius Lekavičius
Homo Sovieticus (Lat-Lith-Czech)
Dir: Ivo Briedis
Prods: Elīna Gedina-Ducena, Gints Grūba