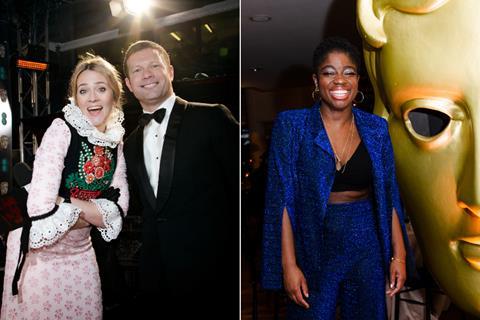 TV and radio presenters Edith Bowman, Dermot O'Leary and Clara Amfo will share hosting duties for the 2021 Bafta Film Awards, which are split across two events on the weekend of April 10 and 11.
As previously for the individual ceremony, both shows will be pre-recorded, with a combined running time of three hours across the two broadcasts.
Amfo will host the Bafta Film Awards Opening Night, which will air on BBC Two on Saturday April 10. She will be joined by a panel of soon-to-be-announced guests; the programme will screen behind-the-scenes footage from the nominated films, and reveal winners in the eight craft categories.
The Outstanding British Contribution to Cinema award will also be presented on that evening at the Royal Albert Hall, as this year's only in-person award presentation.
On Sunday April 11, Bowman and O'Leary will host the second night of the British Academy Film Awards, which will broadcast on BBC One. The pair will be joined by a small group of awards presenters at the Royal Albert Hall, with additional presenters joining from Los Angeles. Nominees in 17 categories will join the show virtually alongside a virtual audience, with individual celebrations during the show for the five Rising Star nominees.
Amfo will interview other Bafta presenters from the Royal Albert Hall on the Sunday show, and will connect with awards recipients virtually for 'winner reactions'. Bowman and O'Leary have previously hosted Bafta's live red carpet show.
The event will also feature musical performances, with details of those to follow.
"It has been an extremely tough year for everyone, including for cinemas and for the film industry, so we are looking forward to some fun, and a celebration of great talent across the weekend," said Marc Samuelson, chair of the Bafta Film Committee.
The Bafta nominations were announced earlier this month, with Nomadland and Rocks leading the way with seven nominations each.