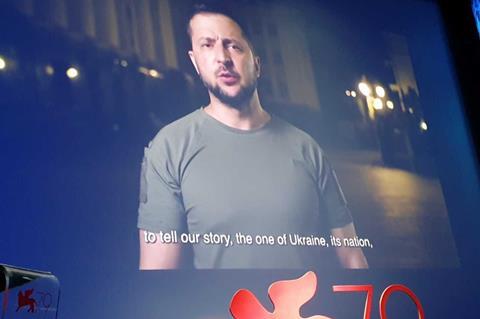 UPDATE, 15/2/23 18.45 CET: The Berlinale has confirmed that Ukrainian president Volodymyr Zelensky will appear via livestream at the festival's opening ceremony tomorrow evening (Thursday, February 16).
Zelensky will appear on a live video link after an introduction by US actor and filmmaker Sean Penn, whose documentary Superpower about the events of the past year in Ukraine plays as a Berlinale Special title at this year's festival.
Original story below:
Ukrainian president Volodymyr Zelensky will appear at this week's Berlin Film Festival "in some kind of form", according to a festival spokesperson.
The festival confirmed the Ukrainian leader will participate in the festival, but could not confirm the form that his participation will take.
Zelensky's participation will come almost exactly one year on from Russia's invasion of Ukraine on February 24, 2022. Since then the leader has made virtual appearances at film festivals and awards, including in Cannes and Venice.
Several titles related to the war in Ukraine have been selected in this year's festival, including Sean Penn and Aaron Kaufman's documentary Superpower, in which Zelensky appears. The film has its world premiere as a Berlinale Special Gala in Berlin on Friday February 17, at the Verti Music Hall, at 21.00 CET.
Last Friday the Berlinale announced a demonstration on the Berlinale Palast red carpet in solidarity with Ukraine to run on Friday, February 24, with attendees including Oleksii Makeiev, Ukrainian ambassador to Germany, European Film Market (EFM) delegations, representatives of Molodist Kyiv and Odesa film festivals, and members of the film teams from Ukrainian Berlinale 2023 titles Waking Up In Silence, Eastern Front and We Will Not Fade Away.
The demonstration is in addition to previously announced activities, including a pin-on Berlinale badge and magnet in the Ukrainian national colours; a panel on financing options for Ukrainian screen content; and the project pitches of Odesa film festival, which cannot currently run due to the war.
The EFM is granting free market and festival accreditations to 50 Ukrainian filmmakers; and is providing free exhibition space and production assistance to the Ukrainian Film State Agency.
The 73rd Berlinale will run from February 16-26.