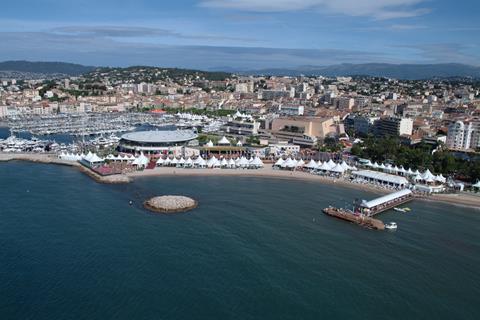 Voltage Pictures, riding high on the international box office success of YA adaption After, has boarded international sales rights on Fangoria's upcoming action-horror film V.F.W. in time for Cannes and will commence talks on the Croisette next week.
Genre specialist Joe Begos, who latest film Bliss premiered at Tribeca Film Festival last weekend, is directing from a screenplay by Max Brallier and Matthew McArdle about Vietnam War veterans who take a stand against a deranged drug dealer and his army of punk mutants to defend their local V.F.W. (Veterans of Foreign Wars) post and an innocent teen.
Production is underway in Dallas, Texas. Leading the cast are Stephen Lang (Don't Breathe, Avatar), William Sadler (Bill & Ted's Bogus Journey), Fred Williamson (From Dusk till Dawn), Dora Madison (Dark Places), Martin Kove (Rambo: First Blood Part II, The Karate Kid), David Patrick Kelly (The Warriors), Sierra McCormick (The Vast Of Night) and George Wendt (Cheers).
Dallas Sonnier and Amanda Presmyk are producing for Fangoria, alongside Begos' Channel 83 Films partner Josh Ethier. Voltage Pictures president and COO Jonathan Deckter and Marc Hofstatter serve as executive producers for Voltage, with David Gilbery and Charles Dorfman for Media Finance Capital, who are fully financing V.F.W., as well as Adam Donaghey, Phil Nobile Jr and Danielle Cox for Fangoria, and Bobby Campbell, Noah Lang, Stephen Lang, McArdle, and Brallier.
Sarah Dunn negotiated the deal on behalf of Voltage Pictures with Sonnier.
"The opportunity to partner with Dallas and the talented team at Fangoria is one we absolutely couldn't pass up," said Deckter. "Fangoria are masters of the horror genre and V.F.W. is the truest reflection of their impressive ability as filmmakers. We can't wait for our international partners to be as captivated by this film as we are."
Begos' first two films, Almost Human and The Mind's Eye, both premiered in Midnight Madness at Toronto International Film Festival.
"Fangoria and our partners at Voltage and MFC were all motivated to find the perfect vehicle for Begos in V.F.W. where we pair him up with remarkable movie stars like Stephen Lang, William Sadler and Fred Williamson, and throw them into Max Brallier and Matthew McArdle's relentless screenplay that would make From Dusk Till Dawn blush," said Sonnier.
Voltage Pictures is in post-production on Jessica Chastain thriller Eve, and recent sales titles include Skin starring Jamie Bell.