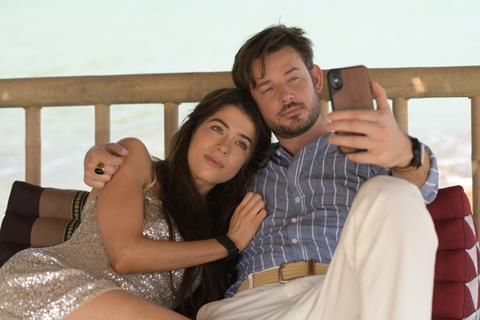 Voltage Pictures will be kicking off worldwide sales in TIFF on the thriller 1 Million Followers starring Shelley Q from Darkest Age and Evan Williams from Blonde.
Harvey Lowry's (The Competition, Without A Body) thriller centres on Karissa, a small-town girl who is invited by a renowned influencer to a mansion in Thailand where the beautiful mingle as they build Karissa up to a million followers.
Things take a dark turn with the introduction of the guests' mysterious sponsor (Henry Ian Cusick, Hitman, Lost) and true intentions are revealed. Paul Kim wrote the screenplay and production took place in Phuket, Thailand.
The cast includes Ryan Jamaal Swain (Pose), Jade Ma (The Swearing Jar, Black Widow), Constanza Palavecino, Patrick Atchison and Skye Ladell.
Serving as producers are Kelli Kaye (The Perfect Mark), Rachel Morgan (Gothic Harvest) and Lowry. Executive producers are Marius D'Gasco and Nuri Alibay.
"I wanted to explore the dark forces lurking behind social media and how it churns young people into a lifestyle of fame, sex and dark places, sometimes forgetting their roots," said Lowry. "I took a voyeuristic approach, using the Fayme App as a character itself, to show how far outside their comfort zone someone would be willing to go to reach the elusive goal of one million followers, and the lucrative benefits that will follow".
"It's a timely, cautionary tale that will resonate with a wide audience," said Alexandra Cocean, Voltage EVP of international sales and distribution. "Harvey has made a provocative thriller that exposes the darker side of the influencer world."
Voltage's film slate includes Roger Kumble's adaption of YA novel Beautiful Disaster starring Dylan Sprouse and Virginia Gardner, and the sequel Beautiful Wedding, written and directed by Kumble and with the same leads, set for a 2024 release.
The roster also features YA adaptation Marked Men directed by Nick Cassavetes and starring Chase Stokes, Sydney Taylor, and Alexander Ludwig and set for a 2024 release; and Aftermath directed by Patrick Lussier starring Sprouse, Mason Gooding and Dichen Lachman, which is also set for a 2024 release.