At this week's VR Creative Summit, held at London's Picturehouse Central, a panel of entertainment industry experts discussed the adoption of virtual reality by Hollywood.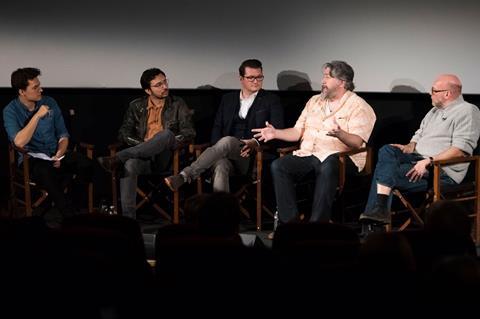 David Karlak, a director at RSA Films whose credits include VR experience Alien: Covenant In Utero, claimed that the emerging medium suffers from being classified as marketing rather than content: "The studio commitment to VR comes from a marketing standpoint, they see VR as the asterisk to a movie. Any dollar spent on VR needs to correlate to a ticket sale in some way."
Sol Rogers, founder and CEO of UK VR studio Rewind and Bafta's VR executive, said that his company was speaking to all of the Hollywood studios and that they each had "different approaches".
He agreed with Karlak that the typical approach was "lopping off some of the marketing budget" for VR spend but added that "slowly [the studios] are seeing that there is money to be made".
Rogers said that he was starting to notice home entertainment and distribution executives appearing in meetings about VR content, and that he believes "studios are going to be investing more and more" in the coming years.
"I definitely think there's an appetite for VR at the studio level but they're being very sensible about it, they're not just going to jump in, but they are exploring. Eventually it will lead to VR titles that will make money," Karlak suggested.
Micke Hjorth, who alongside being a highly-regarded crime thriller writer in Scandinavia is also chairman of Swedish entertainment studio Starbreeze, said that the VR and marketing relationship is "a good idea for now" and that because film is a "conservative business" it will take time for bigger commitments to emerge.
His company Starbreeze is collaborating with IMAX on the latter's VR cinemas, which are beginning to pop up around the world, and he pointed to those as a necessary development, "It's a new medium and we need spaces to show it. The home angle hasn't worked because the equipment is too expensive. VR cinema is a very interesting experiment – we need to get this stuff out and people watching it."
Content
The biggest barrier for the VR business to hurdle at the moment is a lack of quality content, the panel agreed.
"The studios strategy for now is risk management," said Bay Raitt, famed CGI animator and now the founder of VR company Spiraloid Workshop, "We need somebody to come out and plant a flag, blow everybody's minds."
Asked whether they believed Alejandro Inarritu's VR experience Carne Y Arena - which became the first VR project to play in Cannes Film Festival's Official Selection this year and more recently became the first VR film to win an Oscar – was a ground-breaking shift in film's relationship with VR, the panel were mixed in their opinions.
While there was universal agreement about the quality of the experience, the panel questioned whether it's relative inaccessibility – as an expensive location-based experience, it has only been available in a handful of locations across the globe – meant that its lack of audience prohibited it from being the first "VR blockbuster".
"What we really need is that blockbuster moment, with massive audiences," commented Rogers, "What's going to be the killer experience? I bought an Xbox to play Halo. At the minute [VR doesn't have] that piece of content."
Raitt suggested that the spend from studios currently wasn't at the level needed to create that kind of defining piece of content, but that the technology now existed to do so "if you put the content dollars in".
Rogers said that the level of spend needed to match the amount studios spend on blockbuster films, or video games, "[Studios spend on those] a million dollars a minute – we're only spend $10,000 a minute on VR."
However, he said that the content coming out over the next year could move the dial.
"The things coming out in the next 12 months are going to be so much better quality-wise," he predicted.
Indies
The panel wrapped up by responding to an audience question about whether they are looking to work with independent producers, outside of the studio system, on VR projects.
Karlak said that it was possible because "there's a lot of unconventional financing for VR" and that if you could tap into it, you could get a project made.
He also claimed that with a bit of creativity "you can making something amazing on your home computer and release it on an online store".
Hjorth added that VR was "easier to get made than you think" but also "harder to monetise than you think", and that producers should be aware that the lack of mass adoption meant that projects were still likely to struggle to find good audiences.
"The future of this space is going to be owned by independent, passionate people," concluded Raitt.