Bespoke virtual reality location will open in Manchester, UK, this year. IMAX CEO sees VR potential as "bigger than the market for IMAX theatres".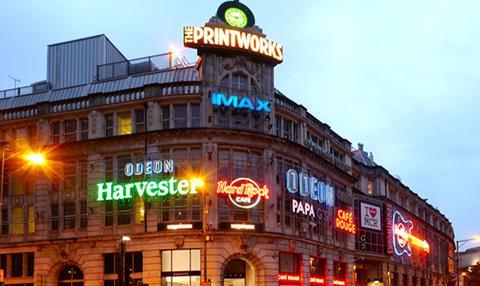 IMAX Corporation is partnering with exhibitor Odeon & UCI Cinemas to launch its first IMAX VR centre in Europe.
Hosted at the Printworks in Manchester, UK, the centre is expected to be open before the end of 2016. It will be one of the first bespoke virtual reality spaces of its kind, hosting an array of interactive content experiences.
Speaking to Screen, IMAX CEO Richard Gelfond explained that the Manchester venue represented an opportunity for the company to learn from a location where the demographic would be "representative of a typical multiplex in Europe".
As previously revealed, a number of these pilot locations will be launched in the coming months as part of a venture with Starbreeze AB, a Sweden-based VR specialist, including at further locations in Los Angeles, which is open imminently, as well as Japan, China, Central Europe, the Middle East and more venues in the US.
The company is planning to use these pilots to test factors including pricing models and types of content featured.
The VR centres will be an enclosed space of roughly 200 square metres, complete with around 12 individual pods that feature an interactive seat, a headset and controllers. Customers will be able to book pay-per-view slots in advance using pre-existing systems such as Odeon's current online booking, with tickets costing around the $10 mark.
The company is also exploring the possibility of package tickets for tie-ins with blockbuster films.
Initial releases will include the announced John Wick 2 VR game and a tie-in with AMC TV series The Walking Dead. Michael Bay is also working on a VR experience to accompany Transformers: The Last Knight in June next year.
While they are remaining tight-lipped for now on further launch titles, expect the winter's major releases to come with some form of tie-in VR content, and for blockbusters later in 2017 to be rolled out with bespoke, cutting edge VR experiences.
The design of these spaces, which IMAX is keeping under wraps for now, was worked on by a designer who also helped create the Apple stores and Tesla showrooms. "We wanted it to be cutting edge," commented Gelfond.
Business model
Gelfond believes that IMAX have cracked the business model for VR, which has been a concern for exhibitors, by creating an experience that is distinctly out-of-home but also realistic enough to be enabled by current technology.
"A lot of people think of VR as watching movies, we don't think people are going to consume entire movies in the theatre wearing headsets. It's not social. Can you imagine going on a date and you're each wearing headsets?"
"The cost in the home is going to be at least $2000 for the headset and computing power. In a theatre it will be about $10 an experience," he added.
He expects these VR centres to enhance the cinema experience, rather than supply a separate attraction for its customer base. "We see VR as complimentary to a cinema experience. Take the Star Trek franchise – you could go on the bridge of the Enterprise and command it after the film."
Gelfond believes that the potential for VR is significant. "We think if it works, the potential market [for VR] is bigger than the market for IMAX theatres. IMAX theatres require a lot of space and a lot of capital cost including the building. This will be much lower cost."
Commenting on the company's decision to partner with Odeon & UCI, Gelfond said: "We have a good pre-existing relationship with Odeon, they have a diverse base of theatres."
IMAX has also revealed that it is in advanced stages with several content developers, including Hollywood studios and gaming publishers, to produce high-quality VR experiences for its new centres. The company is planning to launch these in IMAX locations for an exclusive window before allowing them to be distributed elsewhere.
As previously announced, IMAX is partnering with Google to develop a theatrical quality VR camera, which will enable film-makers to create VR experiences at a quality level that has until now not been possible. "We want to provide an experience that no one else can," commented Gelfond.