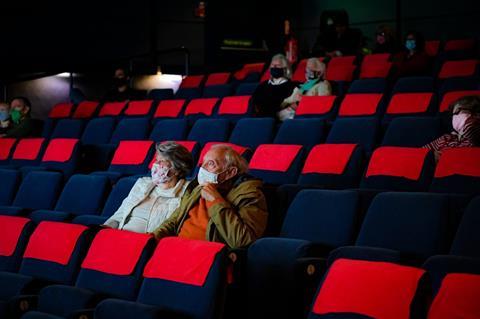 Plans for the introduction of Covid passes from next month for cinemas in Wales have been described as "potentially hugely damaging" by Phil Clapp, CEO of the UK Cinema Association.
Mark Drakeford, First Minister for Wales, has today announced the intended extension of the country's Covid pass to cinemas, as well as theatres and concert halls, from November 15.
"For cinemas to be singled out for this new measure seems not only illogical but also potentially hugely damaging," said Clapp.
"As a sector we have worked extremely hard to remain Covid-safe and there seems to be no evidence that our members' sites are a source of transmission – we are aware of no instance of an outbreak of Covid being traced back to a cinema in Wales or indeed anywhere in the UK."
Box office takings in the UK have shown a marked recovery across October, spurred on by Universal's No Time To Die. However, the pass could deter audiences from continuing to visit cinemas, with particular effects on independent venues, said the UKCA chief.
"Introducing this barrier to cinema-going at a time when the sector is looking to recover from the impact of the pandemic could call into question the survival of many smaller cinema sites," said Clapp. "This is not scare-mongering – where similar schemes have been introduced in other European territories, we have seen admissions drop by as much as 50%. It will also require cinemas to employ significant additional staff resources in enforcement at a time when recruitment issues are to the fore, and finances already stretched."
"Already we are hearing of older and disabled customers telling our members that this move means that they will not now want to return. This is especially concerning when for many of these groups in particular, cinemas are a vital source of community connection and mental well-being.
"We ask the Welsh Government to present the evidence that cinemas are a 'high risk' environment or to withdraw this illogical and potentially damaging measure."
Clapp noted "exceptionally high levels of customer satisfaction with standards of safety seen in a wide range of independent surveys of returning cinema-goers", and also highlighted that cinemas differ from many leisure and hospitality sectors, with customers facing in one direction and not speaking, in "highly-ventilated auditoriums", for the majority of their visit.
"Disproportionate"
Extending the pass to include cinemas is "disproportionate", according to Andy Eagle, CEO at the Chapter independent cinema in Cardiff. As it stands, the pass will not be required in pubs and restaurants.
"The inference is that an auditorium is a dangerous place and needs a vaccine passport – which I don't agree with - but a crowded, crowded room with people drinking and eating is safer," said Eagle. "It doesn't seem terribly balanced."
As well as the messaging that cinemas are unsafe, Eagle said the need for audiences to renew their vaccine passports every 30 days is another potential barrier to attending.
He noted that Chapter has kept auditoriums at 50% maximum capacity, as well as advising audiences to wear face masks while in the cinema – two steps which are neither required by law in Wales, nor practised in the wider hospitality and leisure industries. "We've been doing all that anyway, but we seem to be targeted again," said Eagle.
As well as stymieing the progress made in October through BFI London Film Festival screenings, the pass will add extra staffing costs – and leave venues searching for support funding, said the CEO. "The next question from people like me will be: Culture Recovery Fund three – where is it?" said Eagle.
"As with the UK Cinema Association, we are not aware of any instances of transmission taking place within a cinema context. We would therefore have preferred to have seen the Covid Pass as one of the measures that individual venues may have chosen to implement, rather than mandated for all cinemas in Wales," said Pauline Burt, chief executive at Ffilm Cymru Wales, which supports independent exhibitors across the country.
"We are particularly conscious that many venues rely on 'walk-in' rather than advance bookings, which, coupled with a potential hit to consumer confidence, will likely mean reduced income when the Covid Pass is implemented," continued Burt. "We therefore call upon Welsh Government to ready further financial support for the sector, whilst encouraging the use of our vital and valuable cultural spaces."
The pass, which is operated by the NHS, is available to those who are aged 16 and over, and either have been vaccinated against Covid-19; or have had a negative lateral flow test result in the 48 hours before the event for which the pass is used.
It is already required for nightclubs, and large events (indoor no-seating events over 500 people; outdoor no-seating events over 4,000 people; any event over 10,000 people).