Scholars will take part in the programme which supports the next generation of UK creative industries talent.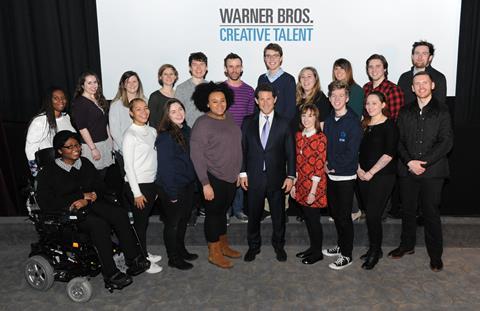 Following a successful first year, Warner Bros Creative Talent has launched its second season.
The 12 scholars selected to take part will be provided with funding and unique opportunities as part of the company's commitment to invest in skills and training for the UK creative industries with scholarships attached to work placements and mentoring, apprenticeships and training courses.
Opportunities include apprenticeships at Warner Bros Studios Leavesden, trainee positions on every Warner Bros film production in the UK and work placements on the award-winning West End musical Charlie and the Chocolate Factory.
Josh Berger CBE, president & managing director, Warner Bros UK, Ireland & Spain, commented: "We're excited to be welcoming a second season of talented people to Warner Bros Creative Talent. Our first season has already made us very proud – through their hard work and commitment, and the opportunities and support we have been able to provide, they have gained insight and experience and are already making their way in the industry. We are confident that Season Two will be just as successful."
The 12 scholars selected are as follows:
Elizabeth Mercuri (Sheffield Hallam University, MSc Games Software Development)
Gordon Napier (Edinburgh College of Art, MFA Film Directing)
Matilda Ibini (City University London, MA Creative Writing (Playwriting and Screenwriting))
Gemma Copping (Glasgow Caledonian University, MA Television Fiction Writing)
Naomi Kotler (The National Film & Television School, MA Games Design and Development)
Amber Donovan (Royal Academy of Dramatic Art (RADA), Pg Dip Property Making)
Danni Heylett (RADA, Technical Theatre and Stage Management)
Jack Condon (RADA, BA (Hons) Acting)
Sam Flint (RADA, BA (Hons) Acting)
Maxwell Boulton (Ravensbourne, BA (Hons) Digital Film Production)
Carrie Cooksley (University of Hertfordshire, BA (Hons) Film & TV)
Daniel Kelly (The National Film School at the Dun Laoghaire Institute of Art, Design and Technology, MA Screenwriting)