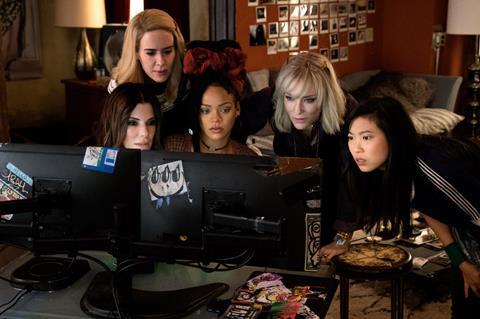 Warner Bros delivered a star-studded CinemaCon presentation on Tuesday evening (April 24) that paraded its talent from Aquaman, Fantastic Beasts: The Crimes Of Grindelwald, Oceans 8, and A Star Is Born.
Host Will Arnett added a sense of anarchic fun to the proceedings as host and occasionally poked fun at the line of A-listers who made their way on the stage at the Colosseum to promote the studio's 2018 release.
Jasom Momo as Aquaman was the butt of several jokes from the comedian and took it all in his stride as he joined Amber Heard, Patrick Wilson, Yahya Abdul-Mateen II and director James Wan to talk up the December 21 tentpole.
Studio heads had persuaded Wan to show rough footage depicting Aquaman duelling Wilson's character Ocean Master. Heard let slip her strong female character Mera saves Aquaman on one occasion.
Sandra Bullock, Cate Blanchett, Mindy Kaling, Anne Hathaway, Sarah Paulson and Awkwafina took to the stage to talk up Oceans 8 (June 8), while Eddie Redmayne, Dan Fogler, Katherine Waterston, Ezra Miller, Alison Sudol and Callulm Turner appeared to promote Fantastic Beasts: The Crimes Of Grindelwald.
Redymane presented Arnett with a wand to introduce footage. The Crimes Of Grindelwald, the second of five entries in the Fantastic Beasts franchise, is set to open on November 16.
Arnett appeared visibly moved after a segment in which his longtime friend Bradley Cooper showed stirring first footage from A Star Is Born. Cooper stars opposite Lady Gaga and said of his directorial debut, "It's a big swing, this movie, and I get that. But you can't control what moves you."
Cooper said he had always wanted to direct a love story and actually sang live in the film at Gaga's behest, and jumped on stage for brief performances at Glastonbury and Coachella. Three years in the making, A Star Is Born opens on October 5.
Ansy Serkis brought early footage from his Rudyard Kipling epic Mowgli (October 19) and was joined on stage by Blanchett, Benedict Cumberbatch, Matthew Rhys, and the young lead Rohan Chand.
There was more to tempt exhibitors in the crowd as Arnett cued up footage from shark horror The Meg (August 10) starring Jason Statham; Melissa McCarthy comedy Life Of The Party (May 11); horror The Nun (September 7) from the Conjuring universe.
The comedy Tag (June 15) starring Jeremy Renner, Ed Helms and Jon Hamm is based on the true story of adult friends who get together for one month each year and play a running game of tag.
Comedy Crazy Rich Asians, described as the first Hollywood film with an all-Asian cast in more than 25 years, arrives on August 17. Director Jon Chu and cast members took to the stage to show footage of the based on the bestseller by Kevin Kwan.
Arnett introduced two upcoming animation titles: Teen Titans Go! To The Movies stars and is produced by Arnett and is due out on July 27, while Channing Tatum, Zendaya and Common came out to talk up Small Foot, which opens on September 28.
Chairman of Warner Bros picture group Toby Emmerich kicked off the session and reminded attendees that 2017 delivered a record $5.1bn worldwide for the studio, powered by the biggest horror film of all time, It (It: Chapter Two goes into production this summer), Dunkirk and Wonder Woman, the studio's third largest film ever in North America.
Last year was also Warner Bros' second biggest year at the North American box office on more than $2bn.