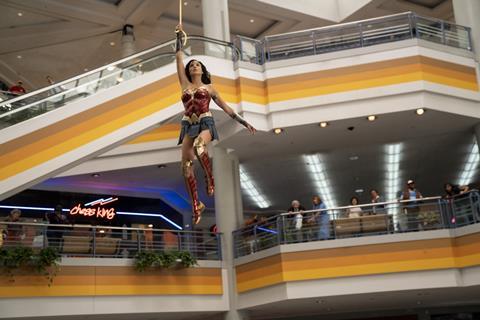 WarnerMedia's streaming platform HBO Max will be available in Europe and Latin America "by the end of next year" said Andy Forssell, head of HBO Max Global, at online technology conference Web Summit on December 3.
The news came hours after Warner Bros announced it will launch all its 2021 releases in the US simultaneously on the platform for 30 days, dismantling the theatrical window that has structured film releases for decades.
Warner Bros has not revealed how long the theatrical window will be for either Wonder Woman 1984 or any of its 2021 films in individual international territories.
"HBO Max is only available in the US. Our plan is for all Warner Bros. films to launch theatrically in the UK along with other worldwide territories," said Warner Bros in a statement to Screen.
However it is understood WW84 will launch on VoD in the UK just 28 days after its December 16 theatrical debut, most likely via one of the on-demand functions of pay-TV broadcaster Sky, which has a content deal with HBO. The traditional window from theatrical release to VoD launch is 16 weeks in the UK.
International reaction to the US move underlines the necessity of a theatrical window to the exhibition sector, while recognising the advantages of being able to provide new titles to content-hungry cinemas before a full global reopening.
"The overwhelming majority of UNIC members believe that a significant period of theatrical exclusivity remains crucial not just for cinemas, but also for audiences, to ensure that they will continue to enjoy films and the immersive, collective and social experience that only the big screen can deliver," said Laura Houlgatte, CEO at European cinema body UNIC.
Phil Clapp, CEO of the UK Cinema Association (UKCA), echoed UNIC's comments and added: "Colleagues at Warner Bros have been notable for their support of UK cinema operators during the recent challenging months, first with the release of Tenet and now with the release of Wonder Woman 1984 on December 16," said Clapp. "This at a time when many of their US studio counterparts have moved all of their major film releases into 2021 and beyond."
"An actual human"
"By the end of the year both of those regions [Latin America and Europe] will be very active," said Forssell, who revealed HBO will upgrade its existing direct-to-consumer services in Europe to HBO Max.
The streamer plans to operate in 190 countries. "It's just a matter of how fast we can do that," added Forssell. He said consumption on the platform, which is currently only available in the US, rose by 60% on a per-user basis during periods of quarantine, compared to the quarter before the pandemic.
Casey Bloys, chief content officer of HBO and HBO Max, responded to a question about the difference between the platform and Netflix. "It's not just the shows. It's how they're presented," said Bloys. "To me it feels like there's an actual human offering up the shows, which is fun and pleasing and has personality."