Academy had not commented at time of writing on request by ill-fated best picture presenter.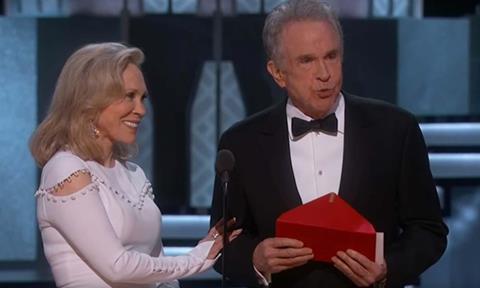 The Hollywood veteran on Tuesday asked for Academy president Cheryl Boone Isaacs to clarify what went wrong at the best picture presentation on Sunday night.
In a statement to Associated Press on Tuesday, Beatty said: "Rather than for me to respond to questions from the press about the Academy ceremony, I feel it would be more appropriate for the president of the Academy, Cheryl Boone Isaacs, to publicly clarify what happened as soon as possible."
Beatty was a co-presenter of the now-notorious best picture award at the 89th Academy Awards with his Bonnie And Clyde co-star Faye Dunaway.
What happened next has become the stuff of Hollywood and Oscars legend.
Beatty appeared confused when he opened the envelope and promptly handed it to Dunaway, who declared La La Land the winner.
It is now known that Brian Cullinan, a partner at PwC, the accountancy firm that has for decades tabulated the Oscar votes and guards the identity of the winners on the night, had mistakenly handed Beatty a back-up envelope containing the name of previously announced best actress recipient Emma Stone.
When the error was discovered, show officials took to the stage to notify the La La Land entourage during their acceptance speeches that Moonlight was in fact the best picture winner.
Both PwC and the Academy have issued apologies as the latter conducts an investigation into presentation protocol.
The Academy had not commented on the Beatty development at time of writing.