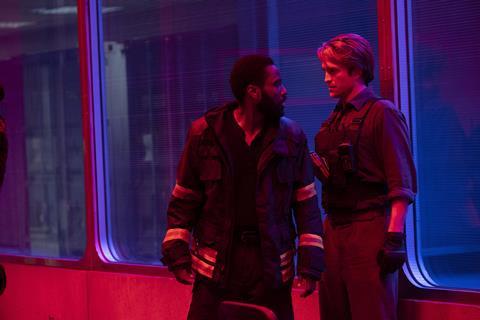 There is a "timeline in mind" for the reopening of cinemas once the coronavirus crisis passes, but it is too early to give exact dates, according to a panel of representatives from the International Union of Cinemas (UNIC).
Speaking in an online webinar on Tuesday, April 14, Jaime Tarrazón, senior vice-president and treasurer at UNIC member the Federación de Cines de España, responded to the suggestion cinemas could reopen in time for the release of Christopher Nolan's Tenet, scheduled for July 17 in most territories.
"We have that same timeline in mind," he said. "But it is too early, even for the US, to say those things. In Spain we are talking to government and they are only concerned about the health problem."
"There's not really consistency across the exit of the lockdown calendars," said Laura Houlgatte, UNIC CEO. "Each country has its own, it can change within one or two weeks."
Houlgatte noted early measures for reopening certain social areas in countries such as Austria, the Czech Republic and Denmark. "We're going to have to keep an eye on these countries, but it's going to vary territory by territory," she said. "When the European Commission tried to prepare an exit strategy for all countries, it was very badly received."
"In the end it will be more or less around the same dates – the same weeks or months," said Tarrazón. "We hope to have our cinemas open by [mid July], but we cannot guarantee anything."
UNIC has produced a report detailing the closure process, support mechanisms, tax and rent relief, and box office effect, in its 38 member countries.
The report notes that certain countries have provided further support to cinemas beyond broader government business measures.
"You have a number of countries where you have a much more sectoral approach, on top and in addition to what is already offered," said Houlgatte. "Norway has had more help from the cultural sector; Italy for the entertainment industry; France for the film industry."
For the UK, the report mentions the BFI's emergency relief fund, established last month, but states its purpose for 'freelance workers in film production' rather than 'other parts of the film/cinema ecology.'
Theatrical window
The traditional theatrical window between a release in cinemas and home entertainment distribution has "little relevance" to the current situation, according to Phil Clapp, CEO of the UK Cinema Association and UNIC president.
"That's understood – that's a consequence of this unique set of circumstances we find ourselves in," said Clapp.
However, he said he believes the window will return once cinemas get back to normal operation.
"I don't think we believe that changes the equilibrium of the industry once we come out of this in any significant way. There's absolutely no sense that once we're back to whatever approaches normality that the window won't continue to exist and continue to work for the sector – not just cinema exhibitors but also for colleagues in distribution."
Regarding what content will be available for cinemas to play when they do reopen, Clapp said his organisation is in "an open dialogue" with both distributors – especially major studios – and exhibitors.
"Do we need to wait for the US to come out of this current situation before day-and-date releases of major films will be available? Clearly we hope not. We're maintaining that dialogue with the studios on behalf of all the European territories we represent," said Clapp.
"This is, if nothing else a time of uncertainty. What I've been refreshed by is the openness and transparency with which colleagues at the studios are willing to have those conversations."
Measures for reopening
The discussion also addressed potential measures venues could take to facilitate a sooner reopening and to reassure customers of their safety.
"I would be very, very, very loathe to suggest that the way to welcome customers into a cinema is to get the thermometer out," said Clapp of the suggestion that cinemas could test audiences' temperature upon arrival for screenings.
The aim was for "some level of consistency across the piece; so whether you're a big or small operator, whatever your business model, customers know what they're coming back into, are reassured by that, and we're able to message that in a consistent way to offer people the reassurance that it's safe to get back into cinemas."
Tarrazón said he believed that customers would adapt to whatever measures are needed for cinemas to operate.
While stating that it cannot be fully compared to 9/11, he said, "most of the people that are listening today are heavy travellers, and they used to travel alone a lot before [9/11] happened. And afterwards, they got used to measures; we have to look for consistency in those measures, but people will get used to them if we present them in the right way."
Clapp added that the cinema industry should take advantage of its difference from other social environments, in that it has a greater measure of control over physical distancing.
"There is the technology in place to have allocated seating to maintain social distancing," he said. "There's a danger – and I see it in the UK, and it's been in a number of other government announcements in other territories – of badging cinemas and theatres with bars, cafes restaurants and other public venues which are much more open access. What we should be looking at and what we should be sharing experience of is how the technology which makes allocated seating more straightforward in cinema than they are in other sectors works."
He addressed the concerns of many exhibitors, especially independent ones, that a lengthy lockdown may threaten their continued operation.
"Cinemas are cash business – the vast majority have little or no reserves," he said. "They also cinemas have high fixed costs; they run buildings. They're bound by certain requirements in terms of spend which other parts of the film value chain aren't."
Going forward, he said the sector should learn from other similar areas such as hospitality and retail to demonstrate its value. "On a national level and indeed a regional level, we can make common cause with those sectors in arguing our case to governments. The cinema sector is hugely important; it has importance far beyond its footprint in terms of employment and economy."
"We can amplify our importance by making clear that if we disappear there are a range of associated goods and serviced which would also potentially go with us."