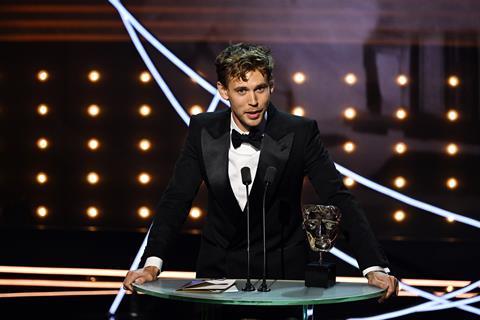 The awards season roller-coaster took another rattling turn at the Bafta Film Awards last night, less than 24 hours after the Directors Guild Awards energised the Everything Everywhere All At Once campaign with the big win for director duo Daniels Scheinert and Kwan.
Bafta has temporarily slammed the brakes on A24's Everything Everywhere bandwagon, handing the film a single prize (editing), and instead supercharging the All Quiet On The Western Front campaign with seven wins including best film, director and adapted screenplay. That's a record number of Bafta wins for a foreign-language film. Can Netflix's surprise awards winner now build on momentum all the way to the Oscars ceremony on March 12?
As for Searchlight Pictures and Film4's The Banshees Of Inisherin, the film walked away with four big prizes – British film, original screenplay for Martin McDonagh and the two supporting performances for Kerry Condon and Barry Keoghan – but why does that still seem a disappointing outcome? Banshees had been seen the likely winner of the best film Bafta, as well as leading actor for Colin Farrell.
McDonagh's previous film Three Billboards Outside Ebbing, Missouri won the best film Bafta in 2018, and went on to lose the best picture Oscar to The Shape Of Water. Having failed to net the top prize at this year's Baftas, The Banshees Of Inisherin now looks out for the count as a best picture Oscar contender.
In best actor, Austin Butler's win for Warner Bros' Elvis gives a massive boost to his Oscar campaign. The assumption among many awards campaigners and commentators was that Farrell would win the Bafta, and then Butler or else The Whale's Brendan Fraser would win at the Screen Actors Guild Awards this coming Sunday – and then it was anyone's guess who would win the Oscar. Now the momentum is all with Butler, and it's hard to see Farrell rebounding. Fraser remains the joker in the pack.
In leading actress, it's definitely helpful to the Cate Blanchett campaign the TÁR star prevailed in her category against formidable competition from Everything Everywhere's Michelle Yeoh. But a win for Blanchett on what is essentially her home turf doesn't really move the dial that much – Yeoh could still win at the SAGs, and take the lead heading into Oscar voting, which opens March 2.
Similarly, wins for Condon and Keoghan are definitely good news for those Oscar campaigns – but the momentum may dissipate if SAG goes in other directions in their categories. Everything Everywhere's Ke Huy Quan has run an immaculate Oscars campaign, and losing to Ireland's Keoghan close to his home turf doesn't change that fact. Condon's biggest competitors at Oscar – Black Panther: Wakanda Forever's Angela Bassett and Everything Everywhere's Jamie Lee Curtis – remain powerfully in the race.
Noise building for All Quiet

As for All Quiet On The Western Front, reading the runes on the First World War drama's Oscar chances remains a hazardous pursuit. One thing is for sure: Edward Berger's film emerges from the Bafta Film Awards in a far stronger position than was the case 24 hours ago.
Despite leading at Bafta on the number of longlists (15) and in total nominations (14), it was far from certain that so many of those nominations would convert into wins. For many, the best film Bafta still looked like a battle between Banshees and Everything Everywhere.
Now, All Quiet surely moves up to be the major competitor to Everything Everywhere for the best picture Oscar – although it's still possible that Paramount's Top Gun: Maverick flies through the middle and takes the prize.
All Quiet's rise is a remarkable outcome when you consider that, prior to last year's Venice Film Festival, Netflix's major awards contenders looked set to be Noah Baumbach's White Nouse, Andrew Dominik's Blonde and Alejandro G Inarritu's Bardo: False Chronicle Of A Handful Of Truths. Those titles emerged from Venice with diminished awards momentum, but it wasn't immediately obvious Toronto International Film Festival premiere All Quiet On The Western Front had the power to carry Netflix's Oscar hopes forward much beyond the international film category. But Netflix caught wind of how the film was resonating with voters, and the streamer put its shoulder to the wheel with powerful support. What happened last night at London's South Bank Royal Festival Hall is the result.
In the final stretch of awards season, in recent years, the many bellwether kudos events have often robbed the Oscars ceremony of much suspense – with plenty of outcomes appearing guessable or, worse, entirely predictable.
We may feel differently after the Producers Guild Awards this Saturday and the SAGs the next day, but right now the Oscars appear to be a genuinely open contest. Austin Butler, Warner Bros, Edward Berger, Netflix and Bafta have collectively made sure of that.