The staggering contrast between Chinese and North American box office for Warcraft was according to one former studio executive a seismic event in the theatrical business that portends a fundamental shift in the Hollywood decision-making process.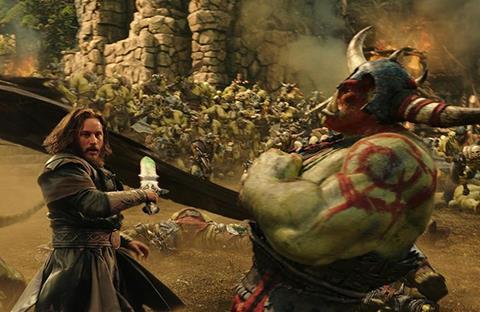 After the online game adaptation from Wanda-owned Legendary, Universal Pictures and a cluster of Chinese investors raced to an estimated $156m in its opening weekend in mainland China, the abysmal $24.1m in North America offered pause for thought.
Can a situation arise where, quota system permitting, a film with US and Chinese money would no longer be required to perform well in North America and would be expected instead to recoup mostly from the international arena and in particular China?
The Greenberg Group's Randy Greenberg, a producer, consultant and former head of marketing and distribution at what is now Universal Pictures International, believes so.
For Greenberg, the new imperative facing Hollywood executives is very clear: "They must put [China] in every equation – creative and business – from the beginning."
Certainly the anaemic North American gross – by Friday the film had reached $29.9m heading into what is likely to be a precipitous second-weekend drop – would suggest that for certain titles the old order can no longer be relied upon as a film's key driver.
'It's almost as if North America becomes irrelevant'
Greenberg argues that for certain titles Hollywood will need to reappraise the way it does business once more results like Warcraft crop up to illustrate the potentially huge discrepancy between box office in North America and China.
He cites three critical developments: "The idea that there will be more screens in China by 2017 than there are in the US; that by the end of the next year Chinese box office will surpass North America; and the fact that the opening of Warcraft in China was five or six times bigger than that of North America.
"It's almost as if North America becomes irrelevant. What happens to the executive structure and how do you model the greenlight?"
Rance Pow of Asian cinema industry consultants Artisan Gateway says China has become a large enough market to have "a significant influence on major title commercial decision making."
However, like Greenberg, he counsels against viewing every release as having the same potential impact as Warcraft.
"The Chinese and American audiences clearly have different tastes in films (and that's evolving), and therefore… box office results in one territory is not necessarily predictive of how a title will fare in the other. When you get a film that plays well in both the US and China these days, it's a very big film."
Success is critical for Wanda
Warcraft certainly opened with a bang. Whether its final gross in China makes it a big film there when all is said and done remains to be seen. Legendary sources are due to provide the next update on Sunday, by which time the film is expected to have surged past $200m on the mainland.
Certainly Wanda has been making all the right noises around what needs to be a success for the company. Its first big Legendary release since acquiring the latter for $3.5bn back in January comes with a lot of baggage: key financing partners in the shape of China Film Group, Tencent, Taihe, and Huayi Brothers, as well as tie-ins with 26 brands, and a hefty commitment by Wanda's exhibition division.
Earlier this year Wanda licensed Chinese VOD rights to streaming platform PPTV in a deal that according to one report last week was in excess of $18m.
The latest international running total issued by Universal Pictures International excluding China on Thursday stood at $116.6m, which means the orc saga is likely to have swept past $325m worldwide this week including mainland China. It opens in Australia and Mexico this weekend.
Greenberg calculates the film, with its $160m production tag and a cost on top of that running into tens of millions more in worldwide marketing, will need to hit around $550m globally and more than $300m in China to break even. Universal is understood to be in for roughly one-quarter of the cost.
Still, the early headlines, allied to other recent box office hits in China, send out a message.
"If it wasn't before, it is now the case that China is a separate line item from North America and international," says Greenberg. "Now all the studios are racing to find out how well their movies can do in China. It's a race to find the intelligence that will enable you to predict that."
While none of the US majors agreed to take part in this story, top brass at every one will be poring over numbers and examining actual or potential ties to China and Chinese product.
Paul Dergaradedian of box office tracker ComScore, notes that while the international arena accounts for roughly 72% of a tentpole's world gross these days, the perception still exists that the US is "the engine that drives the brand."
Yet Dergaradedian adds: "Chinese box office by the end of this decade will likely out-perform the North American component and by the following decade it could even be double."
"Artisan Gateway forecasts the China market for continued growth on the current five-year trend line," notes Pow of Artisan Gateway.

"Annual box office contributions of Chinese-language and imported films in China is evolving, and we expect more US-Sino film collaborations to take place."