EXCLUSIVE: 33 screenings for vampire mockumentary, starring Flight of the Conchords' Jemaine Clement, on audience-led screening platform.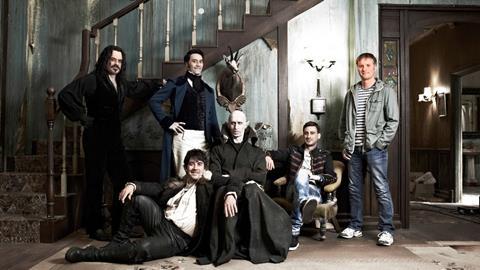 Vampire mockumentary What We Do In The Shadows has become the most booked film on audience-led screening platform ourscreen.
Metrodome released the film in cinemas on November 21 and accumulated box office of $525,000 (£341,838).
The distributor then booked a further 33 screenings of the film, on a revenue share basis, through platform ourscreen, which allows consumers to programme films at certain cinemas providing enough tickets are sold.
Sites to show the film to date include Hackney Picturehouse, City Screen York, Phoenix Oxford, Little Theatre Bath and Cambridge Picturehouse, with additional screenings likely.
What We Do In The Shadows stars Jemaine Clement (Flight of the Conchords) and Taika Waititi (Boy, Eagle vs Shark). The pair also co-directed the comedy, which is filmed in a documentary-style and centres on a group of vampire housemates in New Zealand whose happy home is disrupted by a new member. It debuted at Sundance 2014.
ourscreen
One of the first of its kind in the UK – the US has already launched similar services such as Tugg – ourscreen has a bank of more than 300 films ranging from recent releases such as Nightcrawler to classics such as Raging Bull and foreign language titles including Jules Et Jim.
The service, which launched in spring 2014, connects with cinemas in 19 UK cities and has also seen success on titles including Northern Soul, Night Bus and Home for Christmas.
Significant numbers
Metrodome managing director Jezz Vernon told Screen: "ourscreen has been a phenomenal help to What We do In the Shadows. In commercial terms - with average occupancy at 90% - these numbers are significant for an independent distributor.
"It certainly doesn't present an instant solution for every film. It requires an avid existing fanbase that want to book the film and you need to be able to reach the majority of them effectively.
"For us the great gain is that selected exhibitors are so supportive of ourscreen - it overrides the difficulty distributors have had trying to engage with the earlier platforms like Eventful that spearheaded the Paranormal Activity release in the US.
"We'd love to see the model broaden out. It guarantees the exhibitor a profitable screening and takes away the concern and guesswork of audience appeal in a key site, which sometimes prevent a booking altogether. It's a far more democratic approach to exhibition, but provides both parties with incremental revenue."
"But not every film is right for the model. We were fortunate that the directors Jemaine and Taika were very supportive, constantly motivating the Flight of the Conchords UK fanbase who were passionate about seeing the film and were consolidated online already. It's a film by film proposition - not a panacea."