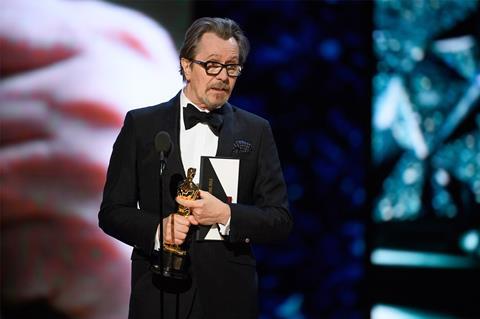 While the biggest Brit contender at the 2018 Oscars, Three Billboards Outside Ebbing, Missouri, from UK outfits Blueprint Pictures and Film4, didn't live up to expectations by taking only two wins from its seven nominations (for stars Frances McDormand and Sam Rockwell), this year's Academy Awards still saw the UK well represented among its winners.
Gary Oldman broke his Oscar duck by taking the best actor prize for his transformative portrayal of Winston Churchill in Darkest Hour, from UK outfit Working Title. Despite a vaulted career, Oldman's win came from only his second nomination, after he was previously in contention for Tinker Tailor Soldier Spy in 2012.
Accepting the prize, Oldman thanked his 98-year-old mother, asking her to "put the kettle on because he was brining an Oscar home". He triumphed over fellow Brit nominee Daniel Kaluuya.
In the below the line categories, Blade Runner 2049 cinematographer Roger Deakins finally broke his losing streak by winning his first Oscar from his 14th nomination. On stage, the DoP said he "loved his job because of the people I work with both in front of and behind the camera" and celebrated the "team effort" behind his latest film.
Darkest Hour make-up artist Lucy Sibbick followed up her Bafta win with her first Oscar from her first nomination. She shared the prize with non-Brits Kazuhiro Tsuji and David Malinowski.
Rachel Shenton and Chris Overton, both alumni of UK soap series Hollyoaks, scooped the best live action short Oscar for The Silent Child, which tells the story of a deaf four-year-old girl who lives a silent life until she is taught by a social worker to use sign-language. Accepting the award, Shenton used sign-language to deliver her speech.
Alongside Kaluuya, other UK nominees on the night included The Shape Of Water's Sally Hawkins and Phantom Thread's Lesley Manville.