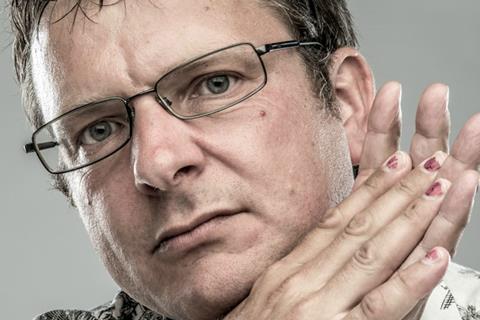 It is 20 years since UK advertising and music photographer Phil Hunt set up Head Gear Films.
The now booming production company and film financier is a major force in the Cannes market this year, involved in films including Mister Smith Entertainment's He Went That Way, starring Jacob Elordi and Zachary Quinto, Altitude's Sentinel, GFM's The Accursed and many others, including several titles from its sister company Bankside.
Back in 1998, Hunt had produced his first feature, Fast Food, a micro-budget movie made for £50,000, which co-starred the then little-known Gerard Butler. (The film was later distributed by Will Clarke and Danny Perkins' Optimum Releasing.) Hunt then spent the next three years trying, as he puts it, "to work out how really to get into the film business."
Blame Chunky Monkey. This surreal 2001 comedy drama was Hunt's next feature. Its director Greg Cruttwell introduced Hunt to his mogul friend, Compton Ross, who ran Aberdeen-based oil industry company, Metrol Technology. "He's an engineer but a lover of movies," Hunt says of Ross. They talked about working together. Ross asked him to write a business plan - and Head Gear began in earnest.
"It's a very unusual partnership. [Ross] has marginally more [of the company] than I have but I make all the decisions on the day to day. And he let me fail for the first decade or so…"
Hunt is quick to clarify. "We've always been very good operators who do what we say we are going to do…from that point of view, we have never failed."
However, in the early years, the company was running at a loss. Head Gear was involved in the 2004 Mexican thriller A Rabbit On The Moon, for which it had raised some of the money. "My thinking started to change from being a producer to being an investor," Hunt remembers. "That was the critical point, the pivot."
In 2006, the company had begun to cash flow some of the films being put together by Australian-owned sales outfit Beyond, run by Hilary Davis and Stephen Kelliher. "Within a few months, I put a proposal to Hilary: why don't you and your team leave and I'll start a new sales company up."
This was how Bankside was formed in 2007, run by Davis and Kelliher with backing from Head Gear. The rationale for starting the company was that "being an agent for hire" was less risky than being involved in the much less secure world of development.
Head Gear, meanwhile, was becoming as much an investment company as a producer.
Pivotal moment
The next key turning point in the company's growth was Amma Asante's 2013 costume drama Belle, starring Gugu Mbatha-Raw as a mixed-race British aristocrat in 18th-century England.
"[Producer] Damien Jones was doing the rounds and pretty much everybody had passed on it," Hunt recalls. The market, though, was 'starting to turn." Hunt agreed to support the project and brought Isle of Man Film aboard. The BFI also invested. Bankside made a "phenomenal sale" to Fox Searchlight. The success gave Bankside a new credibility. No longer were they regarded as a small UK outfit involved in quirky indie movies. Now, even the US studios were taking them seriously.
Hunt now switched his attention back to Head Gear, refining the plans which have turned the company into one of the most prolific financiers of independent films.
In 2012 alone, Head Gear invested £18m. The money came not through other private investors or from banks but through Compton Ross and Head Gear itself. "The key characteristic about Head Gear is that I am in full control of our destiny," Hunt says. "I know I am the luckiest person in the film industry. I am the person who has got the best investor partner."
Head Gear has morphed from being a production outfit into a highly successful financier. Hunt calculates that the company has invested around £350m over the last decade – and Hunt himself has executive produced more than 300 films, everything from dark thriller Black Mass starring Johnny Depp to Peter Strickland's In Fabric.
Head Gear can provide anything from 20% to 100% of a film's budget.
Hunt and his partner Lucy Fenton then founded production and distribution company Bohemia Media in 2020 through which they support alternative voices - and have already released such films as Rebel Dykes, Don Letts' Rebel Dread and Clemency starring Alfre Woodard. Hunt also has (Yet) Another Distribution Company, which handles more commercial titles.
As it celebrates its 20th anniversary, Head Gear remains as prolific as ever. "For me, it's all deal-driven," Hunt says of how he chooses which projects to back. "It is all about good business practice. Having been a producer, I want to serve producers and filmmakers. Obviously, I don't want to lose money. I want to make money. [But] we don't need to be too greedy."