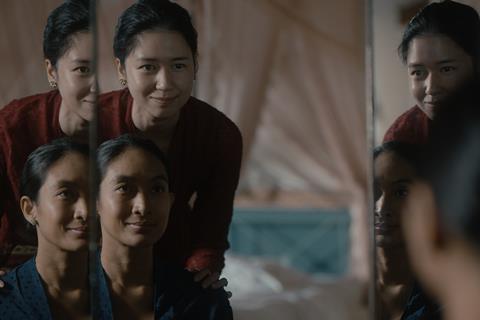 Wild Bunch International has acquired Indonesian director Kamila Andini's female-focused drama Before, Now & Then ahead of its premiere in competition at the Berlinale.
Set against Indonesia's turbulent post-independence years in the 1960s, as government forces and leftist groups battled for control, the story revolves around the domestic life of a woman whose personal life has been completely overturned by these events.
Happy Salma stars as a woman who lost her husband, child and fell into poverty due to the conflict. She has found refuge in a second marriage to a wealthy man, but her existence remains fragile as she navigates his patriarchal values and penchant for taking mistresses. She finds comfort in a friendship with one of these women.
It is Andini's fourth solo feature after her contemporary tale of young female emancipation Yuni, which enjoyed a high-profile run on the festival circuit in 2021 and was Indonesia's submission to the best international film category of the 2022 Oscars.
The director was last in Berlin with The Seen And Unseen which played in Generation Kplus, winning its Grand Prix. Her debut film The Mirror Never Lies also premiered in that section in 2012.
"[Before, Now & Then ] is the story of a woman who is a victim to an era, war, politics, rebellion and patriarchal social life who wants to find the meaning of her own freedom as a woman," " Andini said.
"This film talks about a woman's secret, how she keeps her problems. Brings political circumstances, household problems, anxieties, and personal happiness into small, everyday events," she added.
The film unites Andini with Yuni producer at Ifa Isfansyah at Fourcolours Films and long-time collaborator Gita Fara, who produced The Seen And Unseen. The Titimangsa Foundation is also on board as a co-production partner and the film also won the support of Purin Pictures-Post Production Fund and CJ & ENM Award at the Asian Project Market.
Other previously announced WBI titles due to world premiere at the Berlinale include Claire Denis's love triangle drama Fire (aka Both Sides of the Blade), bringing Juliette Binoche and Vincent Lindon together on the big screen for the first time, alongside Grégoire Colin, which also debuts in competition. WBI is selling it jointly with UK-French production and distribution company Anton in their first collaboration.
Italian genre maestro Dario Argento's new Rome-set thriller Dark Glasses, about a prostitute on the run from a serial killer who blinded her in a botched attack, and Quentin Dupieux's Incredible But True will also debut at the festival as gala screenings.