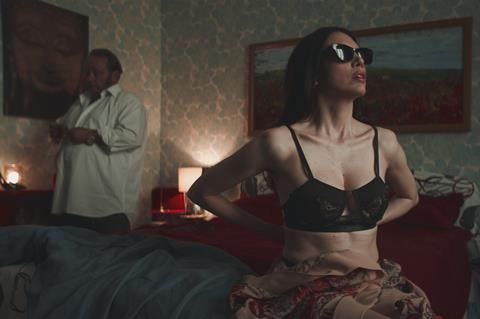 French sales powerhouse Wild Bunch International (WBI) has unveiled a first-look image for Dario Argento's new Rome-set thriller Dark Glasses.
Ilenia Pastorelli stars as a prostitute blinded by a serial killer in a botched attack who takes in a young Chinese boy, whose life has also been abruptly altered forever by the maniac's actions. He will become her ally in a terrifying struggle to see off the serial killer forever.
Pastorelli is joined in the cast by big-screen debutant Andrea Zhang as the young boy as well as Asia Argento in a supporting role.
The feature – lead produced by Conchita Airoldi and Laurentina Guidotti at Rome-based Urania Pictures alongside Getaway Films in Paris – wrapped in Italy in late August and is in post-production for a 2022 launch.
It is 81-year-old Argento's first feature in the director's chair in a decade. He has promised a classic Italian 'giallo', or crime tale, with a touch of the horror genre.
Set against the backdrop of Rome and its surrounding countryside, it brings together the contrasting worlds of a high-class prostitute working in the chic hotels around Rome's Via Veneto and a young boy hailing from the city's Chinese community.
"She's an adult and blind, he's too young to get by on his own. In addition, two different cultures: she is Italian, the child is Chinese. This combination is the engine of Dark Glasses," writes Argento in a director's note.
"The film represents my desire to explore two worlds: hers, we know it; his is more mysterious, and it will let us enter the neighbourhoods, houses and customs of the Chinese community in Rome, where they created a real 'Chinatown'.
WBI will be showing a new promo for the film at the AFM.