As AFM presents its second virtual edition (November 1-5), Screen profiles a selection of key titles that are looking to tempt buyers during the market.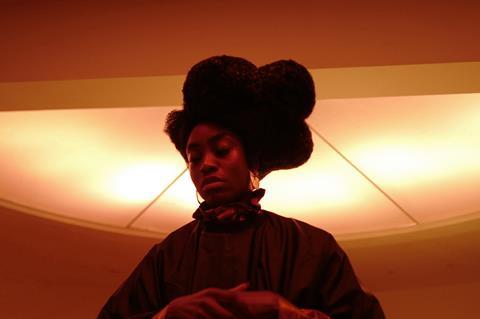 France
Pathé International will unveil a five-minute promo for Jean-Jacques Annaud's Notre Dame On Fire, revisiting the events of April 2019 when Paris's iconic cathedral was severely damaged in a fire. It will also screen Guillaume Canet's drama Him about a composer crippled by self-doubt who tries to isolate himself in a house in Brittany.
Wild Bunch International will show teasers for a trio of films expected to make waves next year: Belgian directing duo Adil El Arbi and Bilall Fallah's feature Rebel, about a Moroccan teenager growing up in Belgium in search of an identity following his father's death; Dario Argento's thriller Dark Glasses; and Ali Abbasi's Holy Spider (aka The Long Night) about a man who kills several women as part of a crazed mission to clean up the holy Iranian city of Mashhad.
France tv will introduce non-European buyers to Sylvie Audcoeur's psychological thriller An Ordinary Mother, starring Karin Viard as a woman who plots revenge when the man who killed her 17-year-old son in a street fight some five years earlier unwittingly re-enters her life.
Other Angle kicks off sales on Mélissa Drigeard's comedy Hawaii about nine friends on holiday on the titular Pacific island when a nuclear attack alert sounds. Believing their last moments are upon them, hidden truths come to the surface to comic effect. Bérénice Béjo, Nicolas Duvauchelle and Élodie Bouchez feature in the ensemble cast. Warner Bros is planning an autumn 2022 release for the film in France.
WTFilms unveils new footage of French directorial duo Ludovic and Zoran Boukherma's horror comedy Year Of The Shark, starring Marina Foïs as a lifeguard on the verge of retirement who embarks on one final mission after a killer shark enters the waters of a French Atlantic resort. The company has fresh footage from the film, which is in post-production. It marks the directors' third feature after Willy 1er and werewolf horror Teddy. The latter was feted in Cannes' 2020 selection.
Bac International unveils feature-length animation Icarus & The Minotaur, bringing two iconic Greek mythological figures together in one adventure. It is the feature directorial debut of Luxembourgish animator Carlo Vogele, whose animator credits include Pixar's Monsters University and the recent series Fox And Hare.
Les Films du Losange unveils a new set of images for Norwegian animated feature Titina, inspired by the real-life story of a fox terrier that accompanied her master on a 1920s expedition to the North Pole in an air balloon.
Studiocanal is out to tempt buyers with family adventure The Railway Children Return, about a group of children evacuated to a Yorkshire village during the Second World War, conceived as a sequel to author Edith Nesbit's children's classic The Railway Children.
SND launches sales on Frédéric Tellier's biopic Abbé Pierre, A Century Of Devotion starring Benjamin Lavernhe. The film follows the iconic French priest from his time in the French resistance during the Second World War to becoming a post-conflict advocate for the poor and homeless, and founding the charity Emmaus. Emmanuelle Bercot also features in the cast. The $15m production starts shooting in December, and SND will have a script for buyers.
mk2 Films unveils sci-fi comedy The Pod Generation starring Emilia Clarke and Chiwetel Ejiofor as a couple who use new tech to share the physical experience of pregnancy through detachable artificial wombs.
Le Pacte kicks off sales on Christos Massalas' drama Broadway, capturing life on the fringes of contemporary Athens through the tale of girl who flees her wealthy, controlling family with the help of a small-time gangster.
Gaumont unveils Mathieu Vadepied's First World War drama Father & Soldier, starring Omar Sy as a man who voluntarily enlists in the French army in Senegal so he can accompany his teenage son, who has been forcibly conscripted by the French colonial authorities.
Charades will be focusing on rural thriller Piggy (Cerdita) by Spanish TV drama veteran Carlota Pereda. The feature expands her 2018 award-winning short about a teenager who is bullied about her weight.
Elle Driver doubles down on two Toronto titles: Midnight Madness breakout Saloum and Blaine Thurier's comedy horror Kicking Blood, the Contemporary World Cinema premiere starring Alanna Bale as a vampire trying to beat her lust of blood.
MPM Premium handles Luxembourg's Oscar submission Io Sto Bene by Donato Rotunno. Renato Carpentieri, who features in Paolo Sorrentino's The Hand Of God, plays an elderly Italian ex-pat who crosses paths with a young Italian artist, stirring up memories of life in his home country. MPM is seeking a US buyer.
Indie Sales kicks off sales on family animation Richard The Stork 2, a sequel to the hit 2017 CGI animation — also known as A Stork's Journey or Little Bird's Big Adventure — about a sparrow that believes it is a stork.
Spain
Filmax is giving a market premiere to the completed historical thriller The Burning Cold, set in Andorra in 1943 where a Jewish family seeks refuge from Nazi persecution. The Spain-Andorra co-production is the feature debut of director Santi Trullenque, and the cast is led by Greta Fernandez (A Thief's Daughter) and Roger Casamajor (The Barcelona Vampiress). Other titles on Filmax's slate include Carlota Gonzalez-Adrio's feature debut The House Among The Cactuses. The 1970s-set psychological thriller revolves around a family whose quiet life in the Canary Islands is disrupted by the arrival of a stranger. Ariadna Gil (Appaloosa) and Daniel Grao (Julieta) star.
Barcelona-based Film Factory Entertainment has some new titles for AFM. Prison 77, directed by Alberto Rodriguez (Marshland, Smoke & Mirrors) and starring Miguel Herran (Money Heist) and Javier Gutierrez (Below Zero), is a thriller set in 1977 just after the end of Franco's dictatorship. Atipica Films and Movistar+ are producing the film, which is in post-production. Skin In Flames is a drama, also in post-production, inspired by the photograph taken in 1972 by Nick Ut in which Vietnamese girl Phan Thị Kim Phuc is pictured running after being severely injured in a napalm attack. Set in Africa, the film stars Oscar Jaenada (Xtreme) as a war photographer. Promo material is available during AFM.
Nordics
New Europe Film Sales is selling Medusa Deluxe by Tom Hardiman, which was presented as part of BFI London Film Festival's works-in-progress selection. The single-take murder mystery is set at a competitive hairdressing competition and stars Anita-Joy Uwajeh. The producers include Mike Elliott of EMU and the film will be delivered in 2022. New Europe's slate also includes Iceland's Oscar submission Lamb and two films headed to Tallinn Black Nights Film Festival: Other People by Aleksandra Terpinska and A Place Called Dignity by Matias Rojas Valencia.
TrustNordisk will discuss upcoming titles including Malou Reymann's Uncontrollable (working title), which is shooting now and inspired by the true story of an institute for 'wayward' girls in 1930s Denmark. Also new on the company's slate is Christoffer Sandler's debut feature So Damn Easy Going, a humorous coming-of-age love story from Sweden. TrustNordisk will host market screenings on Cinando for The North Sea, I Am Zlatan, Nothing To Laugh About and Dutch Oscar submission Do Not Hesitate.
Just in time for AFM, LevelK has boarded Bille August's historical epic romance The Kiss. Other new titles include Fernando Gonzalez and Raul Cerezo's high-concept Spanish horror film The Passenger, which premiered at Sitges and tells the story of a group of strangers on a road trip who accidentally hit a female hiker; and dark comedy Samuel's Travels, which premiered at Fantastic Fest and stars Kevin Janssens as a traveller who is held hostage on a pig farm in Eastern Europe. The company is only holding meetings during AFM, not screenings.
REinvent's titles include Björn Runge's Burn All My Letters, which is set for delivery in late 2022 and stars Bill Skarsgard, Asta Kamma August and Gustav Lindh. It is a drama set in the 1930s and 1980s about a passionate love affair. In pre-production is sci-fi adventure UFO Sweden, from the Crazy Pictures collective, described as the "love child between The X-Files and Stranger Things". REinvent has also added Love You For Now, a Danish "anti romcom" by Julie Rudbaek and Jesper Zuschlag, which is now shooting in Copenhagen and Hvidovre.
The Yellow Affair has added Ireland's international Oscar contender Shelter, starring 2020 Screen Star of Tomorrow Donall O Healai. Set in the wilds of Connemara, the Irish-language drama is about a recluse who inherits land from his overprotective parents. Sean Breathnach's film won best Irish first feature at Galway Film Fleadh. The company's slate also includes Mika Kaurismaki's The Grump: In Search Of An Escort, the third film in the popular Grump series, now in post.
Eyewell's AFM slate includes family title Christmas In The Jungle, trafficking drama Apartment 407 and Swedish dramatic comedy King Of Atlantis.
Italy
Fandango will present a couple of new titles at AFM: Italian horror film Pantafa by Emanuele Scaringi, and Francesca Archibugi's comedy drama The Hummingbird, starring Pierfrancesco Favino (The Traitor) and Nanni Moretti. Also on the slate is police drama The Legionnaire, the debut feature of Hleb Papou, which premiered at Locarno this summer.
Intramovies has a new acquisition for AFM: Ameer Fakher Eldin's The Stranger, which premiered in Venice Days and is the Palestinian entry to the Academy Awards. The company is also selling Teemu Nikki's Finnish crowdpleaser The Blind Man Who Did Not Want To See Titanic, which premiered in Venice Horizons.
True Colours will have a market-premiere screening for A Bookshop In Paris by Sergio Castellitto (Fortunata). It is also selling Giuseppe Bonito's drama A Girl Returned and Christmas comedy I Am Santa Claus starring Marco Giallini (All You Need Is Crime) and produced by Lucky Red.
Headlining Rai Com's AFM slate are superhero blockbuster Freaks Out from They Call Me Jeeg director Gabriele Mainetti, which premiered in competition at Venice, as well as the Italian festival's closing film The Hidden Child by Roberto Ando.
Coccinelle is presenting Peruvian drama The Invisible Girl by Dorian Fernandez-Moris, and will also screen Locarno premiere The Giants by Bonifacio Angius and Ciro De Caro's comedy drama Giulia, a Venice Days premiere.
Minerva will market premiere Volfango De Biasi's comedy Help! My In-Laws Are Vampires, produced by IIF Lucisano Media Group, and Silvia Brunelli's The Miracle Child, which the company is co-selling with TVCO.
The TVCO line-up also includes Lithuanian comedy drama I'm Fine Thanks by Ernestas Jankauskas, and Serge Mirzabekiantz's coming-of-age drama Dark Heart Of The Forest, a co production between Belgium's Hélicotronc and France's Sacrebleu Productions.
Vision's line-up is headed by a pair of Rome Film Festival premieres: Italian drama Promises starring Pierfrancesco Favino and Kelly Reilly and directed by Amanda Sthers, and Pierfrancesco Diliberto's On Our Watch, a Wildside-produced comedy about the future of the workplace.
Rest of the world
Germany's Beta Cinema is pushing Italian genre movie Diabolik, directed by the Manetti brothers and starring Luca Marinelli and Miriam Leone. Thorsten Ritter, Beta's EVP acquisitions, sales and marketing, describes it as "an homage to the 1960s-type Bond filmmaking — a playful and nostalgic joyride". The market premiere is available for the world excluding Italy, CIS, ex Yugoslavia, South Korea and Taiwan.
Beta is also giving a market premiere to Renée Webster's Australian comedy How To Please A Woman, starring Sally Phillips. The Full Monty-style yarn about a woman who starts up an all-male house-cleaning service with benefits is available for all territories excluding Australia/New Zealand and Poland. The company's other market premieres are Florian Gallenberger's midlife-crisis comedy It's Just A Phase, Honey, about a fortysomething couple trying to put the spice back into their marriage, and Swedish drama Tuesday Club starring Peter Stormare as a chef and Marie Richardson as an unhappy wife taking his cooking class.
Fellow German seller Global Screen has the first footage from Saskia Diesing's post-war drama Lost Transport starring Hanna van Vliet, Eugénie Anselin and Anna Bachmann. It will also have footage of 3D-animation My Fairy Troublemaker, produced by Maite Woköck and directed by Caroline Origer.
Munich-based sales agent Atlas International will use AFM to push its Toronto title Cool Abdoul, directed by Jonas Baekeland. The Belgian drama follows a young boxer with a lucrative side career as a nightclub bouncer.
The Playmaker (formerly Arri) has a trailer for English-language feature Rubikon, which is due to be completed early next year. Directed by Magdalena Lauritsch and starring George Blagden and Mark Ivanir, the sci-fi drama is set during a time when Earth is covered by a toxic fog and a space station crew must decide whether to risk their lives returning home. The Playmaker also has several market premieres, including Rick Ostermann's thriller The House, Iceland-Poland thriller Wolka directed by the late Arni Olafur Asgeirsson, and German comedy Lifeguard Off Duty directed by Marcus H Rosenmüller.
Picture Tree International's buzz title is Oliver Hirschbiegel's feature documentary The Painter, about German artist Albert Oehlen, which will premiere at IDFA next month and be screened to buyers during AFM.
Berlin-based M-Appeal is fielding offers for Russian drama No Looking Back from director Kirill Sokolov, an action film about a dysfunctional family that has been selected for the upcoming Tallinn Black Nights Film Festival.
Cologne-based Media Luna has two new projects for AFM: Benjamin Martins' The Shadow Hour, based on the life of German writer Jochen Klepper and the dilemmas he faced during the Second World War; and Misha Kreuz's thriller In The Light Of The Night.
Family-film specialist Sola Media is continuing pre-sales on Cecilie Mosli's Three Wishes For Cinderella.
Stuttgart-based Kinostar has taken on sales for Hanau, Uwe Boll's first film since he returned to filmmaking. The German-language feature is about a QAnon follower who went on a murder spree in Germany, and is already the subject of fierce debate in the German press and online. The slate also includes Polish action drama Exodus from Patryk Vega and Turkish action drama Flashdrive from Dervis Zaim.
From the Netherlands, Dutch Features Global Entertainment brings comedy Shoky & Morthy: Last Big Thing, about two maverick YouTubers taking on supernatural forces. The company is also continuing pre-sales on family film Mini-Zlatan And Uncle Darling, currently in post-production.
Fellow Dutch outfit DFW International brings Diede in 't Veld's family title Silverstar, about the adventures of a girl and the titular white horse, produced by 2CFilm. DFW also presents feelgood comedy Pregnant, Inc from Johan Nijenhuis, about a family in which everybody is either having a baby or wants to have one.
On the eve of AFM, Budapest-based Luminescence picked up three new titles: The One, directed by Dmitry Suvorov, about a woman who survives a mid-air crash; Second World War drama Icon, which it is co-selling with Russian World Vision; and animated comedy How To Save The Immortal, produced by Vadim Sotskov's Kino Atis.
Austrian documentary specialist Autlook Filmsales has several completed titles on its slate, among them Tom Donahue's Dean Martin: King Of Cool and Young Plato, about an Elvis-loving head teacher at a primary school in a rundown part of Belfast.
From Russia, Russian World Vision is sharing sales duties on Second World War drama Icon with Luminescence while also selling its Covid thriller Homeward and female football comedy Girls Got Game.
Central Partnership's AFM slate is led by chess drama The World Champion, directed by Alexey Sidorov (T-34). The film, now in post-production, tells the story of the famous match between Soviet champion Anatoly Karpov and Viktor Korchnoi, a Russian grandmaster who defected to the West in the mid-1970s. The film is due for local release by Central Partnership in December. The company's slate of new projects also includes Sergei Mokritsky's First Oscar, which is in post-production and tells the story behind the making of Moscow Strikes Back, winner of the first ever documentary Oscar in 1943.
Animation specialist Wizart is pre-selling The Snow Queen And The Princess, the latest instalment in its long-running franchise. The feature is due for delivery next year, as is the company's new adventure comedy The Warrior Princess.
Art Pictures' slate includes Michael Idov's Jetlag, produced by Metra Films and billed as "a frank, uncompromising, erotic and funny look" at relationships in contemporary Russia.
Australian sales outfit Odin's Eye is using AFM to hatch its animated feature Little Eggs: An African Rescue, the latest in Mexican production company Huevocartoon Studios' slate of Egg/Rooster movies. Other new titles on Odin's Eye's slate include shark-attack thriller Fear Below and Australian high-school drama The Library Boys from debut writer/director Zane Borg.